The Benefits of Meeting Room Analytics and Intelligence: Free Webinar
The way that meeting rooms are being utilized is changing by the year. Furthermore, different companies utilize different spaces in different ways. Analytics leading to business intelligence in meeting rooms offer serious benefits to integrators and their clients.
Record Date/Time: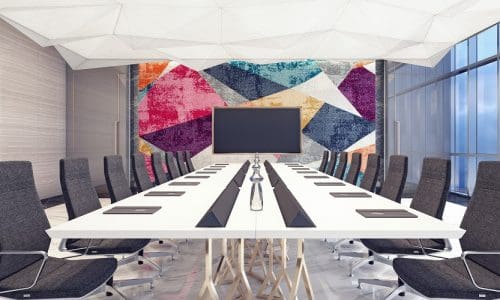 Do your clients know when their meeting rooms are being used? Do they know how many people are in them when they are used? Do they know which systems in the meeting rooms they're using? How long they're using them? What they're using them for? Who's setting the meetings up?
Do they know the average temperature of these rooms? Do they know the CO2 levels? Humidity levels? Do they know when systems are on or off? Do they know when they're not working? Do they know why they're not working?
Do they want to? Because you could give them access to all of this information – and it's not terribly difficult to get with the right system integrated.
This information could prove invaluable to your clients.
Many technology managers today use room utilization analytics to decide how to set up an expanded office or restructure an existing office.
For example, a 12-person meeting room that is constantly used by 4 employees or less could be split into three huddle rooms, leading to a more productive staff.
As far as the ancillary analytics go, the right information about temperature, lighting, and more can lead to direct savings in utility costs.
Unless you want to stand outside of your meeting space with a timer to learn how often lights and shades are utilized, analytics are the only way to learn if the space is being run efficiently.
As a technology integrator, giving clients access to this information can be the difference between winning or losing a bid. Not to mention the gratitude they'll have for helping them cut costs and properly utilize their space.
A grateful customer can often lead to new business down the line.
In a meeting room analytics webinar hosted by Commercial Integrator, TechDecisions, Sharp, and Microsoft, we'll discuss why this information is so valuable and how to get it properly.
We've also conducted a survey of technology integrators and technology managers to learn more about how these systems can and should be used– we'll be discussing the findings from this survey in the webinar.
We'll talk about how the data from these systems can lead to business decisions that save your client money – in utility expenses, the systems they buy, and even how they set up their meeting rooms.
We'll discuss the sensors and IoT equipment necessary to read the room, as well as the analytics platform needed to sift through the data.
If you enjoyed this webcast and want to receive more valuable industry content like this, click here to sign up for our digital newsletters!
Sponsored by: