Meeting Room Collaboration Must Evolve in the New Workplace
Employees returning to the office will expect seamless collaboration in meeting spaces. In an upcoming webinar on May 19th, we'll explain how to make that happen.
Record Date/Time: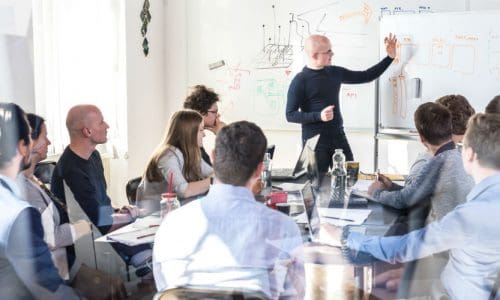 As organizations begin to re-enter the office some will return to a relative normal while others will adopt hybrid work environments and schedules that see many employees continuing to work remotely while others remain in the office. Education is undergoing a similar evolution as educators and administrators seek a balance between engagement and safety.
The mad rush to the more popular videoconferencing platforms is giving way to a more deliberate search for the right collaboration solution. Adaptability is key as they continue to address developing needs and experiment with new approaches to collaboration and instruction.
Today's collaboration needs are rapidly evolving, heightening the importance of interoperability, security, and customization. This poses some daunting challenges, especially when faced with supporting huddle rooms, executive briefing centers, clinics in healthcare operations, learning spaces, and even large auditoriums.
Users want to include whiteboarding, scrum applications, and other functionality that may not be standard or offered on their current solution. And users need to collaborate across communication channels that include a plethora of UC platforms and other apps. Choosing the right collaboration solution is crucial.
In a webinar on May 19th at 2:00 PM ET, Commercial Integrator and Intel will explain just what is necessary to evolve the meeting room collaboration experience.
Topics will include:
The need for seamless wireless content sharing
The benefits of utilizing a cloud platform to streamline connection from in-room and remote users
How an open platform solution that can integrate existing business tools, in-room controls, and more can bring meeting spaces to a new level
The importance of maintaining security when allowing for BYOD and wireless connectivity in the meeting room
After viewing this webinar you'll have a better understanding of how to bring about evolution in meeting spaces, ensure a smooth transition back into the workplace, and set your teams up for collaboration success for years to come.
Sponsored by: