The Classroom of the Future is Here
In an upcoming webinar we discuss trends & technology that have entered the education environment, & how integrators and their customers can build the classroom of the future – today.
Record Date/Time: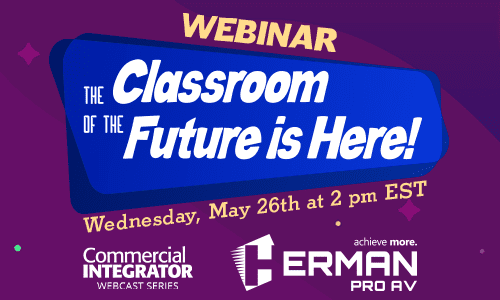 There has been significant change within the past year, and perhaps the market that saw the most change as a result of COVID-19 was the education sector.
Many K-12 environments were required to enable distance learning on a large-scale for the first time ever. Even higher education institutions with distance learning programs in existence had to scale those to cover the entire curriculum for a significant amount of time.
As a result of this acceleration, technology became an integral part of the learning experience in ways it never had before.
Students and faculty alike grew used to the benefits that technology at their fingertips provided, and even as they return to a physical classroom that desire to teach and learn in innovative new ways will return with them.
Schools and integrators working with them will need to meet the demands of the teachers and students that adopted technology into curriculum. It's going to be a hybrid future.
In an upcoming webinar sponsored by Herman ProAV on May 26th at 2:00 PM ET, Commercial Integrator will bring in Joe Way, Director, USC Learning Environments, Chair of HETMA  (Higher Education Technology Managers Alliance), to detail exactly what the classroom of the future looks like – because that classroom is being built today.
Topics will include:
Trends and changes to curriculum as a result of additional technology
Best practices for capturing lectures, distributing material, and for students inside and out of the classroom
How AV technology has advanced to meet the needs of the post-COVID classroom
The infrastructure necessary to enable distance learning on a larger scale
And much more!
Speakers:
Joe Way, Director, USC Learning Environments, Chair of HETMA (Higher Technology Managers Alliance)
Peter Melvin, Vice President of Sales, Herman ProA
Join us on May 26th and learn how, with the help of AV technology and the right integration partners, the classroom of the future is here today!
Sponsored by: