Video Collaboration: Where It's Going and How to Get There
Free webinar offers strategies for helping companies nurture a video collaboration culture and analyzes how video collaboration is transforming workplace meetings.
Record Date/Time: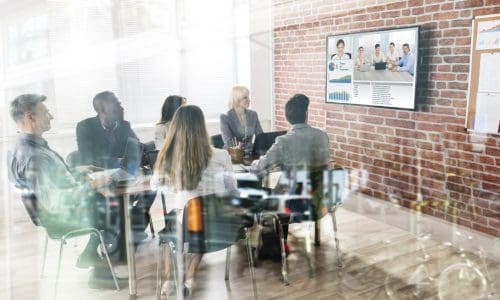 It's hard to imagine a company, organization or school that wouldn't benefit from a better video collaboration strategy.
Consider how many employees work remotely.
Ask yourself how often the best ideas come from group collaboration versus working in silos.
Think about the multi-generation employees working side-by-side in most offices, each with different intuitive technology abilities.
So it's not just about buying a collaboration solution. It's about understanding how essential video collaboration is to how meetings are conducted, ideas are generated and work gets done … and investing in a supportive, future-focused  collaboration strategy.
"Video Collaboration: Where It's Going and How to Get There" is a free webinar, presented by Commercial Integrator and TechDecisions, in partnership with AVI-SPL and Sharp USA.
Expert panelists from Sharp and AVI-SPL will analyze key trends that impact how collaboration solutions are being deployed and used in today's work environments.
For instance, how important of a role will artificial intelligence (AI) play in the future of collaboration? According to a Microsoft survey, 95 percent of white-collar workers say they'd embrace AI if it helps them improve their workplace processes.
Saundra Merollo, senior sales engineer for Sharp, will explain which trends truly matter as you're designing a collaboration strategy.
Get Your Video Collaboration Questions Answered: Register Now
The goal of this free webinar, "Video Collaboration: Where It's Going and How to Get There," is to help technology professionals plan better video collaboration strategies. Each organization has different goals and variables. So the challenge becomes how to understand the key trends impacting collaboration and incorporating unique needs into a technology game plan.
Tom LeBlanc, editorial director for Commercial Integrator and TechDecisions, will discuss those challenges with a technology professional from AVI-SPL, an integration firm tasked with designing and deploying video collaboration solutions for diverse customers.
Audience members can submit questions before and during the live webinar to be answered by the expert panelists.
Don't miss this opportunity to create a better video collaboration strategy.
If you enjoyed this webcast and want to receive more valuable industry content like this, click here to sign up for our digital newsletters!
Sponsored by: