Visualizing the Hybrid Office for Integrators and Clients
In an upcoming webinar on March 31st, representatives from Microsoft and Commercial Integrator will discuss the technology necessary to create a truly hybrid office.
Record Date/Time: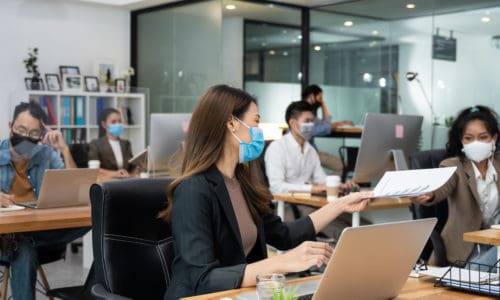 The workplace has officially changed. While COVID-19 sped up the process of digital transformation for many organizations, even beforehand many companies were preparing for a migration to a hybrid office. Now that so many organizations have seen the benefits of offering work from home opportunities the hybrid office has leapt to the forefront of many business strategies.
Still, the concept of the hybrid office is a work in progress. There is no set schematic or blueprint for creating a hybrid office because many organizations are undertaking this for the first time. The great thing about this is that many industries will get to learn together the best practices for facilitating great work between those in the office and those working from home.
In a Commercial Integrator webinar sponsored by AVI-SPL on March 31st at 2:00 PM ET, representatives from Microsoft will join us to discuss their purview on the hybrid office.
Mehryn Corrigan, Incubation Sales Executive, Microsoft Teams Rooms at Microsoft, will share market research outlining the specifics of what makes up a functional hybrid office. She will discuss what organizations are doing in real time to better facilitate work in the changing workplace.
Jimmy Vaughan, Partner Technical Specialist at Microsoft, will then discuss the specifications of the technology – how they talk to one another, what devices are certified, how integrators and their customers can implement them into the office, and more.
Finally, we will have a roundtable discussion to further contextualize this information and round out what the hybrid office will look like. Audience members are invited to ask questions during a live Q&A in order to get the greatest understanding of the hybrid office possible.
Join us on March 31st at 2:00 PM ET and find out just how the hybrid office works!