Cutting Through the Clutter: How to Choose a Wireless Presentation System
Find the wireless presentation solutions that suit customer's needs across their organization – from the C-Suite down to the IT department.
Record Date/Time: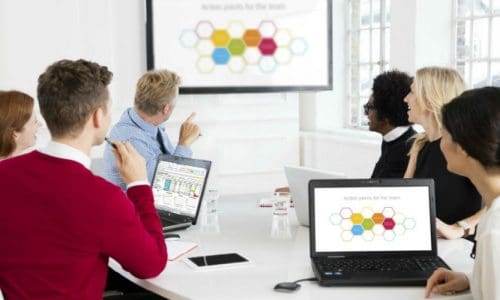 Wireless presentation solutions are quickly becoming a must-have for most organizations. By 2020, 59% of the global workforce will be comprised of "natural collaborators" – Millennials and Generation Z employees that are most comfortable with updated technology.
That's only a year down the road, and that number will only increase to 100% over the following decade.
According to Gartner, by 2020 as well, the greatest source of competitive advantage for 30% of organizations will come from the workforce's ability to creatively exploit digital technologies.
It makes sense that organizations wish to provide technology that better enables the new workforce to produce and succeed. Pretty soon, however, it's going to be mandatory to do so.
There are plenty of digital technologies to employ, but one of the most beneficial and easiest to install is wireless presentation technology. Well, easy to install if you're able to cut through the clutter of myriad solutions on the market to find the one that will work best with your organization – and that the workforce will actually use.
Register for this June 19th webinar now!
There are plenty of complex wireless presentation solutions on the market. You'll see them being set up ad nauseum by IT staff across the country, called to the meeting room again and again by employees that want their commercial tech to work as simply as the smartphones in their pockets.
How, then, do you help clients choose a wireless presentation solution that not only provides the capabilities they need, but that their workforce will understand and embrace?
Our June 19th webinar will give you the information you need:
What is wireless presentation and why are there so many choices?
How have meeting rooms and huddle spaces changed to necessitate wireless presentation?
Understanding the different perspectives in decision making, from the C-Suite needs, to security protocols, to participant adoption, and everything in between.
Wireless presentation features to consider: Ease of launch, amount of participants, IT friendliness, ease of set-up, resolution, capabilities, etc.
All of this and more will be answered in our webinar. After leaving the presentation you'll have the knowledge and ability to choose a wireless presentation that makes everyone happy – those that mandate the technology, those that manage the technology, and those that use it day-to-day.
Click here to register for this June 19th webinar!
Sponsored by: