All Pro Is Medieval Times' Knight in Shining Armor After Major AV Upgrade
Step back into the Dark Ages at Medieval Times, where an AV upgrade by All Pro Integrated Systems left the 'stage' looking better than ever.
Leave a Comment
All Pro Integrated Systems employees have built long-standing relationships within the industry across a broad range of roles, from prior integration projects to touring with bands around the world. In many cases, leads are discovered through these ongoing connections.
Marty Huntoon is a member of the systems design team at All Pro, who implemented the original lighting design in the early years of Medieval Times. During a conversation with a prior colleague from the original project, Huntoon learned Medieval Times was looking to upgrade its lighting systems in the Atlanta castle.
Because of his relationship with Medieval Times staffers, Huntoon was able to learn helpful details on the initial plans and equipment lists and inform the All Pro sales team of the opportunity.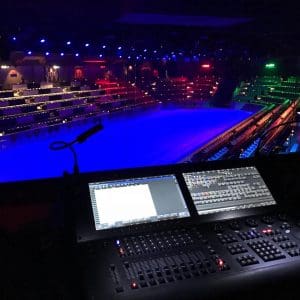 National sales manager Jon Giles and systems design manager Chris Kusek developed a proposal for an all-new lighting design for the Medieval Times venue, but while studying the opportunities at the Atlanta castle, they discovered that an upgraded audio system would complete the audience experience.
All Pro designed an audio solution that would only require one-quarter of the speakers of the existing audio system, yet provide better sound quality and more coverage throughout the space. The All Pro team set up a demonstration, in conjunction with Danley.
Lighting upgrades and enhancements for Medieval Times in Atlanta included network-based control system with LED lighting fixtures.
All Pro used Pathway Connectivity network gateways and nodes to distribute more than 6,000 channels of DMX over sACN to the Philips LED fixed and automated luminaires.
The fixture package included Philips SL220 Punchlights for the arena wash, SL155 PARs for the audience accents and SL LEDSpot 300 and Vari*lite VLZ fixtures for arena special effects.
'Show Ready' Systems…During Installation
More than 80 speakers in the arena were replaced with 13 Danley SH-95 speakers, with 10 TH212 subwoofers rounding out the low end of the system.
Amplification for the system was provided by QSC PL380s and PLD4.5s and a BSS BLU processor is running the system. A new compact Yamaha QL1 digital mixing console is at the heart of the AV upgrade.
Because of the 600MHz frequency ban, All Pro upgraded Medieval Times' wireless microphone systems in tandem with a new Danley audio system. New QXLD Shure wireless microphones now provide inputs to the system.
Medieval Times presented several unique challenges, with All Pro installers working around near-daily performances in the venue.
This limited the crew to only working off hours, while providing a "show-ready" environment at the end of each day and maintaining maximum efficiency onsite.
The sand in the ring of the venue also provided its own challenges for mounting and installing equipment from a shifting surface that required technicians to adjust quickly while keeping the equipment out of the sand.
Medieval Times management was pleased with All Pro's consultative approach and the new audio and lighting system made a significant difference on the audience experience.
"I can clearly hear the music and speech now, and it sounds so much better than before," one of the staff members said.
After attending the first show at Medieval Times with the new audio and lighting system, a couple who are regular customers said, "This is our 10th or 11th show now, and it's never sounded so good."
William Phillips, general manager for Medieval Times Atlanta said "We are satisfied with the work of All Pro. Your company is fantastic, professional, and fast. After speaking with David Dodson, sound and lighting manager, he said that All Pro's team is some of the best he has had the pleasure of working. David and I speak highly of All Pro's team and would welcome them back anytime."
Wow! Check out this incredible Time Lapse video of our work at Medieval Times Dinner & Tournament – Buena Park! #timelapse #lighting #lights #performance #medievaltimes pic.twitter.com/LjCWfm6Gb0

— All Pro Systems (@allpro_systems) May 25, 2018
"By all accounts, the sound at the castle is a big improvement over what we had," said Medieval Times corporate CFO Keven Ralphs.
After finishing the Atlanta AV upgrade, All Pro was invited to design an LED lighting upgrade for the Chicago Medieval Times castle. Huntoon provided a fixture demonstration and factory tour for the staff at Medieval Times at Phillips Lighting in Dallas, located near their headquarters.
Chicago Castle LED upgrades were completed with a "wow!" result from the Chicago staff. Other Medieval Times locations are now in the works.
Equipment Highlights
Danley speakers
Shure body-pack microphones
QSC amplifiers
Yamaha digital mixing console