D-Tools SI 2018 R1 Update Offers Tax Lookup, Currency Support and More
The new update, D-Tools SI 2018 R1, adds key productivity and pricing enhancements including third-party integration for tax lookup and multiple currency support.
Leave a Comment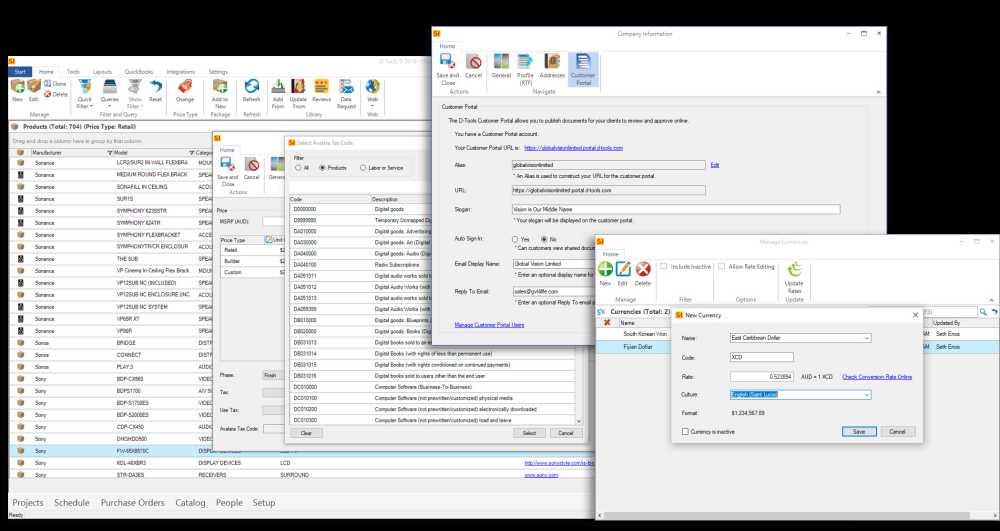 System Integrator 2018 just got more features to help integration firms become more efficient. The D-Tools SI 2018 R1 update offers a new third-party integration for tax lookup, multiple currency support, customer portal enhancements and more.
The SI 2018 R1 update is available immediately.
According to a D-Tools press release, SI 2018 R1 offers efficiency improvements in virtually every functional area of the software including catalog management, projects, and reporting, as well as enhancements to the D-Tools Customer Portal, multiple currency support and third-party integration for automatic tax lookup.
D-Tools' Randy Stearns teasing SI 2018 back in May 2018:
D-Tools goes on to describe each of the new features in its press release:
SI 2018 R1: Avalara Tax Integration
D-Tools' integration with Avalara, a leading provider of tax compliance automation for businesses, provides SI 2018 users with the ability to accurately calculate applicable taxes for every billing line item by location, at no cost. An enhanced option is available to customers of both systems with the ability to unlock advanced features such as adding tax codes to each product/item in their catalog.
SI 2018 R1: Multiple Currency Support
Accommodating international growth, D-Tools customers now have the ability to create multiple currencies for Projects, Service Orders, and Purchase Orders, aside from their company's default currency.
SI 2018 R1: Customer Portal Enhancements
SI 2018 users can now send their client an "auto sign-in" link within an email notification sent through the D-Tools Customer Portal. Users also have the ability to change the "from" name on the email sent, as well as set the "reply to" email for customers, allowing clients to reply directly back to the SI user.
SI 2018 R1: DPI (Dots Per Inch) Detection
SI 2018 now has the ability to accurately detects the DPI of the monitor a customer is viewing the software on, improving the interface and imagery displayed for 4K monitors.
SI 2018 R1: Client and Customer Updates
Both Client and Customer information have a mass update function to set the "owner" for each. Users can also mass update the currency and Avalara tax exemption codes.
SI 2018 R1: Product Pricing Enhancement
To increase reporting accuracy and provide additional detail in documentation, a new "description" field has been added to Product Price Types.
SI 2018 R1: Export Custom Layout
SI 2018 users now have the ability to Export Custom Layout from the Product Explorer, Labor Explorer, and Project Explorer interface.
SI 2018 R1: Security Enhancements
Password setting enhancements provide SI 2018 customers a one-time password (OTP) to reset user password for confidentiality.
SI 2018 R1: Mobile Install Update
Full Notes field now displays in Mobile Install email notifications. Notes are no longer abbreviated, allowing SI 2018 users to see the complete information before logging into the portal.
SI 2018 R1: Project Number Formatting
Project Number formatting now allows users to select separator, number of digits, and start number.
Commercial integrators can sign up for a free online tour by visiting here and download a free 30-day trial of D-Tools here.