MealViewer, LG Offer School Cafeterias Digital Menu Board Live Updates
Digital signage monitors from LG Electronics integrate with MealViewer proprietary software to create a school cafeteria menu board solution that allows live updates to menu offerings.
Leave a Comment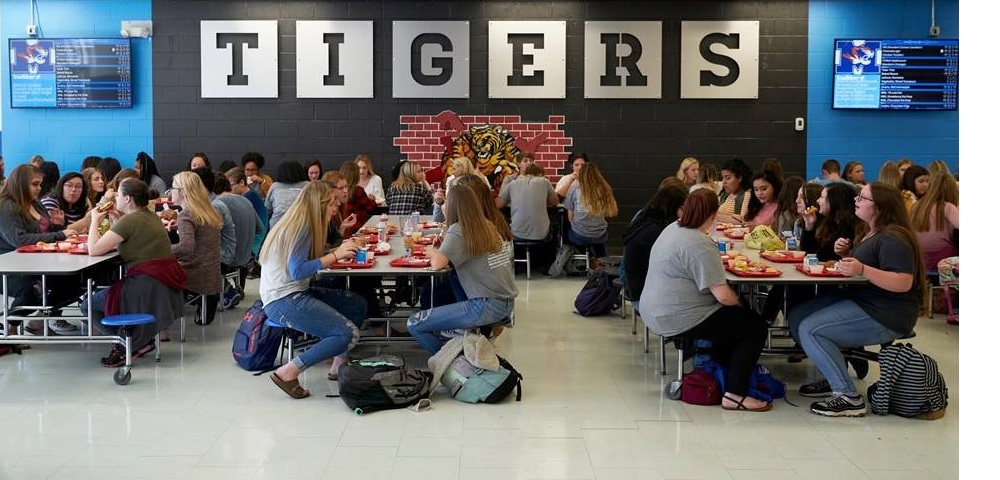 Managing a school cafeteria isn't easy and last minute menu (think running out of pizza) can create mayhem. Cafeteria staff being able to quickly and easily make live updates to digital menu boards or digital signage can help ease confusion and maintain order. That's exactly what proprietary software maker MealViewer and digital signage display maker LG Electronics have rolled out for school cafeterias across the country.
The goal was to create a school cafeteria solution that would allow for live updates to menu offerings, increase student engagement and help drive cafeteria sales.
As the first company to deliver live data through digital signage displays in an institutional food service setting, MealViewer needed to find a technology partner with an innovative digital signage solution that offered captivating picture quality, seamless connectivity to MealViewer's proprietary software platform, and the potential to be easily replicated in cafeterias and school districts throughout the United States.
And it landed on LG Electronics.
Inside the MealViewer, LG School Cafeteria Solution
According to an LG case study, MealViewer selected advanced digital signage monitors from LG Elecronics to deliver their transformative menu solution to tens of thousands of students across the country. MealViewer found that LG displays developed for quick-serve restaurant (QSR) digital menu boards and wayfinding applications could be easily integrated into any school cafeteria installation environment.
MealViewer aleady has installed more than 1,300 LG SM5KC and LG SM5KD QSR displays in the hundreds of school cafeterias they service in 38 different states. The 43-, 49-, 55- and 65-inch class LG QSR displays combine crisp picture quality and easily editable software, which affords for dynamic content that minimizes inconveniences for students waiting in line.
Related: How to Explain Digital Signage ROI
School cafeteria and nutrition program staff can now easily manage the displays via LG Electronics webOS software platform for seamless communication between staff and students that, in turn, makes the job of switching and editing content for staff much easier. The software also enables staff to promote student participation in formal school nutrition programs, advocating for healthier eating habits among the students and staff.
Remote Management: MealViewer, LG's Schol Cafeteria Menu Board
It is hard to deny that static non-digital signage is less effective among younger demographics, writes LG in its case study.
"For the most effective results, menus need to be delivered through a digital content system, and in order for our clients to effectively provide that, they also need a quality solution that does not complicate their current workflow," according to MealViewer CEO, Tommy Wafford.
In order to offer school districts across the country a highly operable, streamlined software solution that could be updated in real-time and accessed remotely, MealViewer menu board needed a digital signage solution with a snappy software program in addition to premium picture quality.
Running the MealViewer program as an app on LG's webOS smart digital signage software uncomplicates the use of digital signage for school cafeteria managers across the country, as they can now manage an entire school district's cafeteria programs from one location.
The web-centric open source platform, LG webOS, is customizable, easy to design and highly manageable.
Running the MealViewer program as an app on LG's webOS smart digital signage software uncomplicates the use of digital signage for school cafeteria managers across the country, as they can now manage an entire school district's cafeteria programs from one location thanks to its Group Manager feature.
Prior to using LG's webOS-enabled QSR digital signage, it would take upwards of 25 to 30 hours for the staff to update content and menus. Now, MealViewer can offer their customers different levels of access whether it be by district or on a school-by-school basis.
Once the LG displays are installed in the schools, they can also be controlled through MealViewer's company database so that MealViewer's IT technicians can log into the system remotely to provide troubleshooting support for clients, enhancing its customer service offerings.
Read LG's entire MealViewer school cafeteria solution case study here
Staff members can use the displays' mirroring feature to share content across a Wi-Fi network and they can even control the digital signage from their house if they needed to work from home, allowing the ultimate in commercial flexibility and convenience.
As a result, webOS saves time and money in addition to ensuring accuracy across the network of connected displays.
"LG Electronics has established itself as the leader in forward-thinking technology. It's the reason we are LG partners," says Wafford.
"We're so grateful for LG's methodology of always thinking about the next best thing they can bake into their hardware and we're really excited—ecstatic, actually—about the ability to partner with LG and use webOS in the future for the K-12 market.
Watch LG's Garry Wikka Discuss Future of Digital Signage and Data Analysis: