Extron Adds Esports Guide for AV Professionals
Extron's new Esports Systems Design Guide is designed to help understand the unique performance needs of esports facilities.
Leave a Comment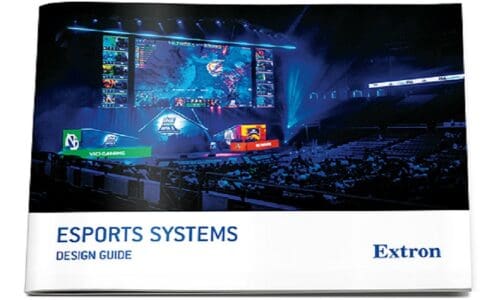 Anaheim, Calif.-based Extron announced the newest addition to its comprehensive library of design guides, the Esports Systems Design Guide. According to the company, the unique performance needs of esports facilities require particular AV system design knowledge and expertise to ensure an excellent experience for players and spectators. Thus, the guide contains an overview of the market potential and important design considerations. It also has a selection of Extron products. With this guide, users can up their esports game and look toward a future in this growing field, says Extron.
"This is a must-read resource if you're planning to build or upgrade an esports facility," remarks Casey Hall, VP of worldwide sales and marketing for Extron. "The Esports System Design Guide discusses distinct AV requirements and provides examples of typical systems. It also includes a case study that shows how Point Park University used Extron technology to enhance their esports program."
Also Read: Extron AV Enhances Learning Experience at Lecture Hall in Lee University
Need for Esport
According to Extron, esports continues to enjoy increased popularity and rapid adoption at all levels of education. Instructors and administrators now realize that like traditional sports, esports fosters teamwork, communication and problem solving. Schools and universities are also developing dedicated facilities to support their esports programs. In doing so, they are quickly discovering that well-designed AV systems enable personal growth and career development. AV systems for facilitating esports training and competition vary in scale and capability. They also vary in terms of incorporating several AV technologies and specific IT network requirements.
Thus, users can learn about the key design parameters and special requirements of esports facilities with the Esports Systems Design Guide, concludes Extron.
If you enjoyed this article and want to receive more valuable industry content like this, click here to sign up for our digital newsletters!