Mets Tap Samsung to Upgrade Citi Field Displays
The New York Mets have announced Samsung Electronics America as the ballpark's official display and technology solutions partner.
Leave a Comment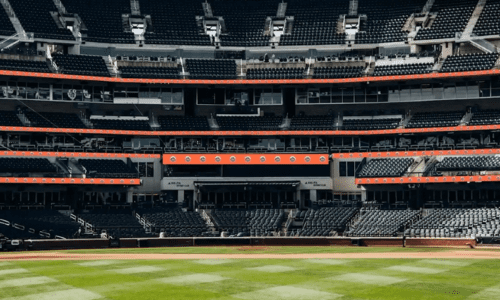 The New York Mets announced Ridgefield Park, N.J.-based Samsung Electronics America as its ballpark's official display and technology solutions partner. All parties have signed a multi-year deal to transform the famous ballpark's screens to create a truly interactive fan experience. Samsung will bring the Mets' vision to life with its portfolio of displays, its content-management platform and its services.
Display- and Data-Driven Innovation
"Baseball is one of America's great historical pastimes," Harry Patz Jr., senior vice president and general manager, Display Division, Samsung Electronics America, says. "And thanks to cutting-edge display- and data-driven innovation, we are ushering in a new, exciting era that transforms the ballpark experience and brings fans into the game like never before."
According to Samsung, from the moment fans arrive on property, they will experience gameday in a whole new way. Among the expected enhancements for 2022 are new ribbon boards and more than 1,300 LCD screens throughout Citi Field. The displays will lead fans to the shortest lines and ensure they don't miss a single pitch. A new, larger, enhanced centerfield scoreboard will be installed for fans' enjoyment for the 2023 season.
"We are excited and proud to partner with such a worldwide leader and iconic brand as Samsung," Jeff Deline, executive vice president and chief revenue officer, says. "Like Samsung, the Mets have a very loyal and passionate fan base, and the implementation of this state-of-the-art technology is going to provide an enhanced experience and environment for millions of fans that come to Citi Field for many years."
Samsung Design and Build Partner
Samsung is the complete design and build partner for the Citi Field project. It will deploy the full breadth of its display portfolio and technology solutions throughout the ballpark. In doing so, it will create the first connected venue in Major League Baseball.
"Samsung has a rich tradition of innovation and purpose-built technology," Mark Quiroz, vice president, product marketing, Display Division, Samsung Electronics America, says. "Over a two-year period, we'll transform a once-static signage environment to an all-digital experience." He continues, "By seamlessly weaving display technology and sensors into the existing environment, Samsung will create a gateway for connectivity at Citi Field for both the operators and the fans."
What Fans Can Expect
The ballpark upgrade is one of the largest single projects in all of professional sports. The upgrade will take place over two years. Upon completion, Citi Field will be the most technologically advanced ballpark in the major leagues.
Key technological features in the new Citi Field will include the following:
More than 1,300 LCD screens and 4,000 square feet of direct-view LED screens in public spaces. These will enhance the fan experience at every touchpoint and even alert them when their team merchandise is ready for pickup.
A ballpark-wide IPTV system that will carry nearly 100 channels of sports and entertainment content.
Double the number of slow-motion replay systems and triple the number of cameras for increased game coverage.
An enhanced and fully upgraded scoreboard to display the latest LED technology and handle 4K video.
Citi Field is an iconic landmark and historic symbol of New York City. It will welcome fans to experience one of America's favorite pastimes like never before through display innovations by Samsung. The multi-year technology upgrade is scheduled to begin in 2022.
For previous Commercial Integrator coverage of Samsung news, check out our archives.
If you enjoyed this article and want to receive more valuable industry content like this, click here to sign up for our digital newsletters!