WolfVision to Showcase Cynap Core Wireless Video Presentation at InfoComm 2018
WolfVision introduces new Cynap Core wireless video presentation system to U.S. market during InfoComm 2018 in Las Vegas.
Leave a Comment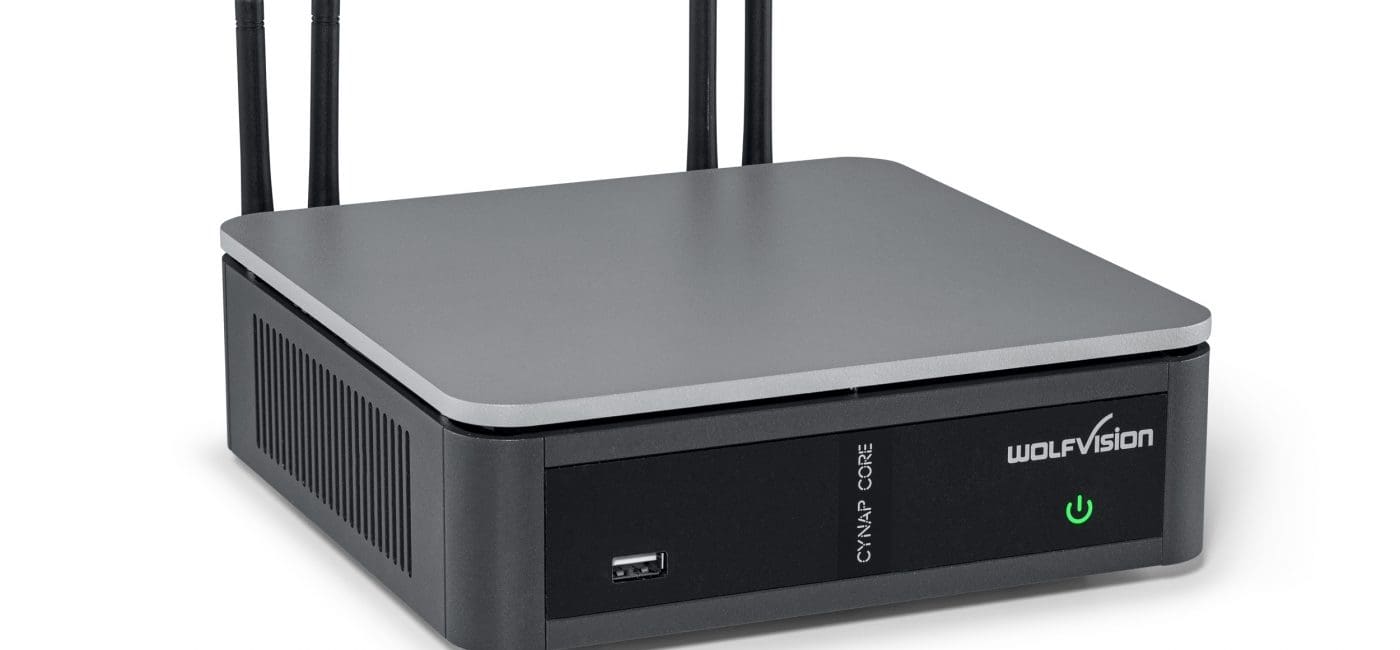 WolfVision recently announced it will be debuting its new Cynap Core solution to the U.S. market at InfoComm 2018 [booth N1506] in Las Vegas June 6-8.
The new solution "promises to deliver premium-quality wireless video presentation and useful collaboration functionality in a compact, enterprise-grade AV/IT appliance," according to a WolfVision press release.
"Designed to enhance the collaboration capabilities in both meeting spaces and active learning classrooms, the Cynap Core introduces new features to the industry such as 'wireless touchback,' which lets multiple users wirelessly see and remotely interact with a presenter's PC, and inter-Cynap video streaming for active-learning classrooms with multiple workstations," according to the WolfVision announcement.
"Commercial audio-visual systems integrators worldwide have been looking for a wireless collaboration solution that they can successfully integrate into their customer's enterprise network environments," said Andreas Ganahl, director of innovation and product management for WolfVision wireless video presentation.
"We know the challenges they're facing and we've built the Core to address them."
The Cynap Core features "bring your own device" (BYOD) connectivity and supports the native wireless mirroring protocols of iOS, Android, Windows, Chrome and Mac devices.
This means that users can present full 1080p wireless video at 60 frames per second without having to pre-load video files or use additional software, apps or dongles to connect.
Collaboration Features
For deployment on enterprise networks, the Cynap Core features physically segregated network interface cards, 802.1x LAN & WAN authentication, and HTTPS encrypted connections.
Optional collaboration functionality includes cloud-file access, web-browsing, media-file playback and digital annotation with whiteboarding.
"We wanted to do more to enhance collaboration than simply remove the need for someone to plug-in their device" said Ganahl.
"With the Core, you can do more such as access and present your files from the cloud, even when you don't have your device with you. Then, if you choose to, you can let others view and digitally interact with your material from their devices. At the end of the session, you can save your work and distribute it to the team. This provides for a rich and truly-effective collaboration experience."
The Cynap Core will be available for sale effective immediately through authorized WolfVision resellers.
"We are excited about the opportunity this solution presents for our reseller partners," said Arthur Jenni, president of WolfVision North America, in the company press release.
"We've enjoyed tremendous success by working together with the integration channel over the years and it's wonderful to see our relationship expanding in this way."