Everything You Need to Know About AV Training
Your guide to AV training for Pro AV integration experts: from AVIXA's CTS Certification program, to HDBaseT Installer and Audinate Dante training.
Leave a Comment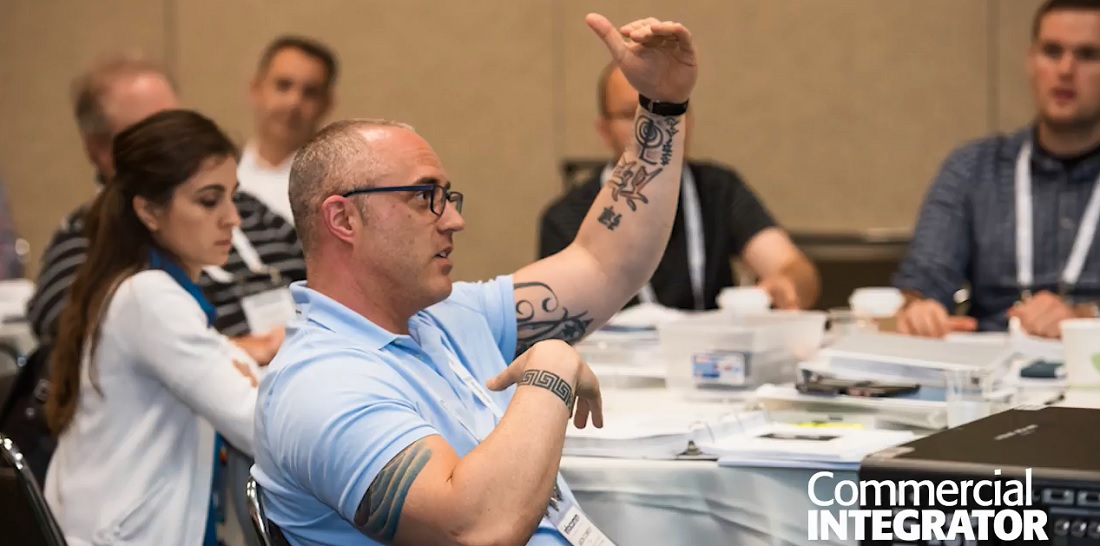 Why Attend AV Training?
There are several reasons why students and professional AV technicians decide to attend AV training. Many students embark on it to build credentials for a career as an installer, technician, programmer or project manager in the AV industry. Others that are already working in the AV industry leverage training in order to advance their careers.
Frankly, one of the great things about a career in pro AV is that so much training, led by AVIXA, is readily available. While many AV professionals attended universities it's also a market in which individuals can thrive without a college degree.
The industry's training options make it such that professionals never have to stop learning. AVIXA recently celebrated its 12,000 CTS certification during InfoComm 2018 and many AV manufacturers have certification programs that ensure installers stay updated on what's new.
Meanwhile, the Electronic Systems Professional Alliance (ESPA) also offers training and certification for entry-level Electronic Systems Technicians (ESTs).
AVIXA CTS Training
AVIXA makes it easy for AV professionals and students to find CTS training. Education sessions are available in live classroom settings at AV industry events, including InfoComm, as well as many distributor, manufacturer and integrator events. AV professionals looking for CTS training should search here.
Certified Technology Specialists, or CTS Certified technicians, are AV techs who have successfully completed the AVIXA (Audiovisual and Integrated Experience Association) training course of the same name.
Beyond the classroom, CTS training is available via webinars, virtual classrooms and more. It's available in paid and free variations. A guide to CTS training options can be found here.
Meanwhile, there are many resources for those who have completed training and are preparing for their CTS exams. There's the CTS Candidate Handbook, which offers information about the testing process and includes a copy of the exam application; the Exam Content Outline, Job Task Analysis and CTS Practice Exam help identify gaps between the student's knowledge and skills and those required to pass the exam. Find more resources here.
Where to Get CTS Certified
Candidates for CTS certification can apply online or submit their completed PDF applications via email, mail and even FAX. Once the application is approved, potential CTS certification test-takers schedule their exams at Pearson VUE test centers near them.
AVIXA also offers InfoComm show attendees the opportunity to take their CTS exams at the association's annual show in June in Orlando and Las Vegas and at some of its other regional shows around the world.
Every five years, as part of AVIXA's accreditation, all three CTS exams go through a review process by volunteer CTS holders, analyzing the exam content and relevance to job tasks.
This results in modified exam content outlines for each exam so they remain valid and relevant to the industry.
HDBaseT Installer Expert Program
HDBaseT Alliance members have access to the HDBaseT Installer Expert Program, which can be taken entirely online.
Members watch 10 videos that tackle HDBaseT technology, architecture, best practices, interoperability and more. HDBaseT estimates that the entire video program adds up to less than an hour. A quiz follows each video and users can earn the right to move onto the next video and quiz.
Audinate's Dante Certification
According to Audinate, creator of the Dante audio networking protocol, its Dante Certification program offers an easy path for system designers, engineers and other AV professionals to learn about Dante with in-depth AV training. As a certification program it helps to demonstrate expertise to prospective customers.
The Dante Certification program has two levels, currently, with the stated goal of adding new levels and specializations based on industry roles. Often Dante training is delivered live in conjunction with industry trade shows, integrator events and Dante partner road shows.
There are opportunities to earn specific Dante Certification or InfoComm CTS RU credits.
If you enjoyed this article and want to receive more valuable industry content like this, click here to sign up for our digital newsletters!