Crestron Enhances VC-4 For Enterprise IT Management Of Meeting Rooms
Crestron has announced key enhancements to its VC-4 Virtual Control solution that make the platform more scalable yet still powerful.
Leave a Comment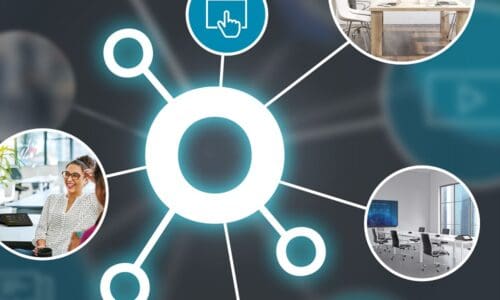 Crestron has announced the expansion of its room control portfolio with key enhancements to its software-based control solution VC-4 Virtual Control that make the solution more scalable yet still powerful.
According to the Rockleigh, N.J.-based provider of networking solutions, the new VC-4 software platform enables IT managers to scale room configurations faster than traditional hardware control platforms while maintaining a high level of functionality.
The VC-4 can support up to 500 spaces on a single server and enable mass deployment of customized or standardized configurations with the press of a button to help organizations save on time and labor costs while improving the control platform's lifecycle.
Crestron bills the expanded VC-4 as a solution to hybrid work and the demand for additional collaboration spaces. The company says the software-based solution can accelerate deployment of rooms and enable IT to design and configure a room's unified communications, audiovisual and control solutions. Those configurations can then be saved and automated to cut down on labor costs and time for common applications.
The VC-4 Virtual Control solution is integrated with standard programming languages such as C# and SIMPL, making it easy for IT and AV professionals, respectively, to use, the company says, adding that native SIMPL integrations bring "complete parity" to the thousands of certified Crestron programmers.
The enhanced VC-4 also works with the broader Crestron ecosystem, including Flex Digital Workplace Technology and DigitalMedia Content Distribution to provide an integrated user experience with advanced functionality.
The solution also comes equipped with the XiO cloud Technology Operations Management platform to provide device lifecycles management, control and remote support for room systems.
In addition, Crestron says the VC-4 allows IT to leverage existing IT infrastructure for redundancy and fault tolerance and as an on-premise solution. The solution also features enterprise-grade security protocols, and all functionality is executed from the server and not in the public cloud, enabling local data storage and greater control over security patches and maintenance.
"The VC-4 software solution provides users a comprehensive range of enterprise room control solutions that will deliver immense value at scale," says Toine C. Leerentveld, Senior Group Product Manager, Control Solutions for Crestron, in a statement. "No matter what preferences an enterprise IT team has, the addition of VC-4 to our room control portfolio means that Crestron will have a solution to suit every need."
This story originally appeared on Commercial Integrator's sister-site MyTechDecisions.com.
If you enjoyed this article and want to receive more valuable industry content like this, click here to sign up for our digital newsletters!