Leviton Announces MILLENNIUM Copper Cabling Systems
The global availability of Leviton's MILLENNIUM Systems allows customers to achieve network performance and consistency across multi-site projects.
Leave a Comment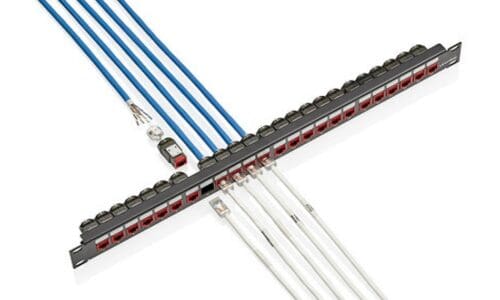 Melville, N.Y.-based Leviton announced the availability of three new copper cabling systems for customers around the globe. Per a statement, the MILLENNIUM Copper Systems will broaden Leviton's ability to service multinational businesses with guaranteed performance, a consistent worldwide product offerings and industry-leading support. Most importantly, global customers can standardize network design and deployments with products that meet multinational specifications, are stocked in Leviton warehouses around the world and are measured with consistent, specifiable performance parameters per category.
"Leviton is excited to offer global, end-to-end, high-performance solutions to our customers," adds Dean Lipke, vice president of product management, Leviton Network Solutions. "As a customer-focused, versatile and technology-driven global partner, Leviton is launching these innovative, industry-leading copper systems to allow customers to simplify and standardize their infrastructure designs and achieve guaranteed network performance and consistency across their multi-site, multi-phase projects."
Main Features
The new MILLENNIUM Copper Systems are made up of cable, jack modules, consolidation points, patch panels and patch cords. They are as follows:
ATLAS-X1 SST: The premier global Cat 6A UTP structured cabling system features high performing ATLAS-X1 jack modules and SST cable. It is thus ideal for mission-critical applications. These include public safety, automotive, healthcare, data center, defense and finance which requires reliable high performance and downtime is not an option.
EXTREME SST: The enhanced global Cat 6A UTP structured cabling system features EXTREME jack modules and SST cable. This is ideal for enterprise, government or smart-building applications. Here, the time-tested connectivity and cabling provide performance reassurance for network managers with an eye on emerging technologies and capabilities.
EXTREME 6: A global Cat 6 structured cabling system that features our EXTREME jack modules, Cat 6 cable. This is suitable for commercial or enterprise applications requiring a reliable, compact, high-density design and reduced outside-diameter cable.
As part of the MILLENNIUM Copper Systems, the industry-leading SST Cat 6A UTP cable is now available in Europe and to customers worldwide in CPR-ratings. In the U.S., Berk-Tek, a Leviton Company's popular LANMARK SST cable, now labeled as SST, is a cable by Leviton in plenum and riser ratings. This popular cable provides premier Category 6A performance for mission-critical networks, designed with greater flexibility and an incredibly small outside diameter.
Also Read: Leviton Names President & COO Daryoush Larizadeh as New CEO
All MILLENNIUM Copper Systems include a wide array of options in modular or 110-style patch panels as well as Leviton's innovative global-patch-cord platform featuring a compact plug-and-boot for reliable high-performance connections. Moreover, the MILLENNIUM Systems offers environmentally conscious solutions. These include bulk-pack options, sustainably smart packaging and other environmentally optimized product designs. These global systems are now available through Leviton's extensive distribution network.
If you enjoyed this article and want to receive more valuable industry content like this, click here to sign up for our digital newsletters!