Logitech Tap Aims to Simplify Connecting to Video Calls, Video Collaboration
Launching at ISE 2019, Logitech Tap, part of pre-configured room solutions for collaboration platforms such as Google Hangouts, Microsoft Teams Rooms and Zoom Rooms, brings one-touch meeting launch.
Leave a Comment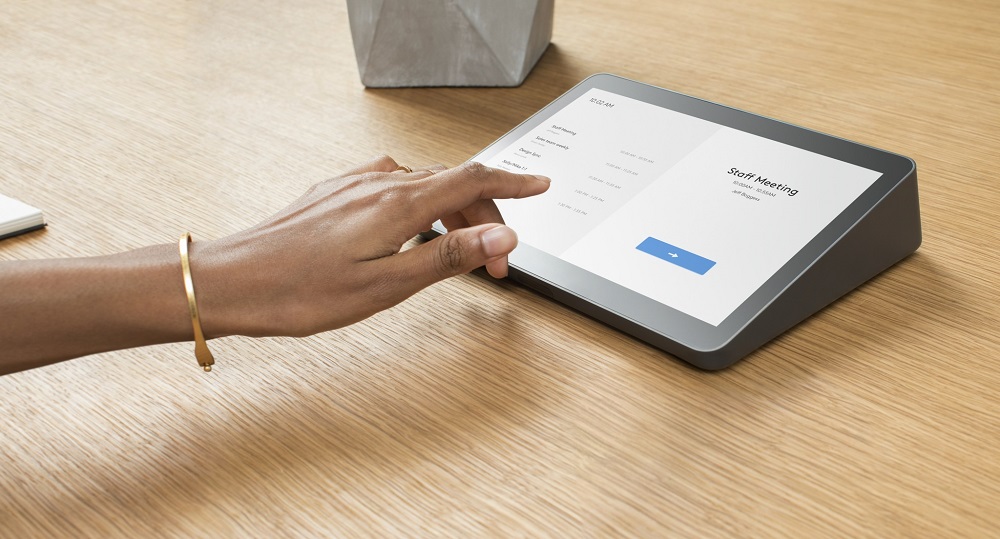 Logitech is using Integrated Systems Europe (ISE 2019) as a platform to launch Logitech Tap, a touch control display that it says makes one-touch connect to video call and video collaboration platforms such as Google Hangouts, Microsoft Teams Rooms and Zoom Rooms easy as a tap.
According to Logitech, Tap is part of pre-configured room solutions for major collaboration platform providers such as Google Hangouts Meet Hardware, Microsoft Teams Rooms (formerly Skype Room Systems), and Zoom Rooms.
Like other Logitech conferencing equipment, Tap is built on open standards, enabling a broader set of  integrations, for example with interactive whiteboards, room control functions, and more.
"We trying to solve challenge of how people start a meeting in a meeting room," says Joan Vandermate, head of marketing, Logitech Video Collaboration Group.
Logitech Tap is expected to be available globally in Spring 2019 as part of pre-configured room solutions for Google Hangouts Meet Hardware, Microsoft Teams Rooms (formerly Skype Room Systems), Zoom Rooms and other leading collaboration platforms.
Logitech: Why the Meeting Rooms Focus?
Logitech, known for its consumer computer devices, has been focusing on the meeting room with several endeavors over the last couple of years – starting with a focus on the collaboration market and then  Logitech Meetup conference camera designed for these small meeting spaces and a partnership with Herman Miller to develop better AV furniture solutions for meeting rooms.
Vandermate  tells CI that Logitech sees meeting rooms as potentially for us a multi-billion-dollar business," pointing out that only "between 5 and 12 percent of all meeting rooms are video enabled." The opportunity to put UCC technology "in all those meeting rooms is tremendous."
ISE 2019 and its stands 11-C110 and 15-C255 provide the global manufacturer with a B2B platform for launching Logitech Tap
"Over the past five years, we've changed the video conferencing market by bringing simple, high-quality, video devices to the masses. With Tap, we are extending our approach to meeting control," says Scott Wharton, vice president and general manager, Logitech Video Collaboration, in a press release.
"In addition to enabling one-touch video with the world's leading collaboration providers, Tap challenges the complex and costly status quo of touch controllers by delivering an affordable, premium solution that can be used for a variety of applications well beyond video conferencing."
More on Logitech Tap (via press release):
As an integral component of Logitech Room Solutions, Tap couples the purpose-built utility and robust build quality of a meeting room touch control panel with the affordability and flexibility of a tablet. It delivers one-touch video calling simplicity for users in an IT-friendly design ideal for mass deployments. Logitech Room Solutions with Tap include all necessary components in one package: the Logitech Tap touch controller, a small form factor computer with room-optimized video conferencing software from Google, Microsoft or Zoom, and a Logitech conferencecam.

Featuring a 10.1-inch touchscreen, HDMI input for content sharing, and robust cable retention, Logitech Tap is designed and engineered for reliable convenience in the meeting room. A range of table, riser and wall mounts offer tremendous placement flexibility, while in-wall rated cabling enables topologies and room layouts that please the eye as well as IT.