Logitech Teams with Furniture Maker Herman Miller on 'More Creative' AV Solutions
Through Early Office and its living office settings approach, Logitech and Herman Miller pshow why AV technology and furniture are important relatives.
Leave a Comment
We've been telling you for a while about AV integrators who are figuring out the important relationship furniture plays in creating a top-notch space for their customers—and for themselves.
Logitech and Herman Miller are the latest in the line of AV manufacturers teaming up with furniture companies—and we certainly don't expect them to be the last.
Logitech and Herman Miller will showcase its partnership at InfoComm 2018 [booth N2622] in Las Vegas June 6-8 and the next week at NeoCon in Chicago at an event that's becoming an increasingly important venue for AV manufacturers to show their wares.
"We've always had a tangential relationship with technology," says Nathan Glotfelty, senior program manager of living office settings for Herman Miller, noting the company developed the first mousepad many years ago.
"The biggest difference is now we're integrating early in the process, which wasn't always the case."
Herman Miller focuses on three things, says Glotfelty: surroundings, furnishings and tools. It's not that different than AVIXA's philosophy of transforming content, space and technology to create exceptional experiences for customers.
In addition to the obvious corporate applications, this new approach is ideal for health care and higher ed installations, he says.
"We have to be able to bring all of that to our clients," says Glotfelty, noting Herman Miller has launched an initiative it calls Living Office that looks at a variety of corporate clients' needs and approaches to their space, including show-and-tell, divide-and-conquer, spaces for groups and places for individuals to get their work done most effectively.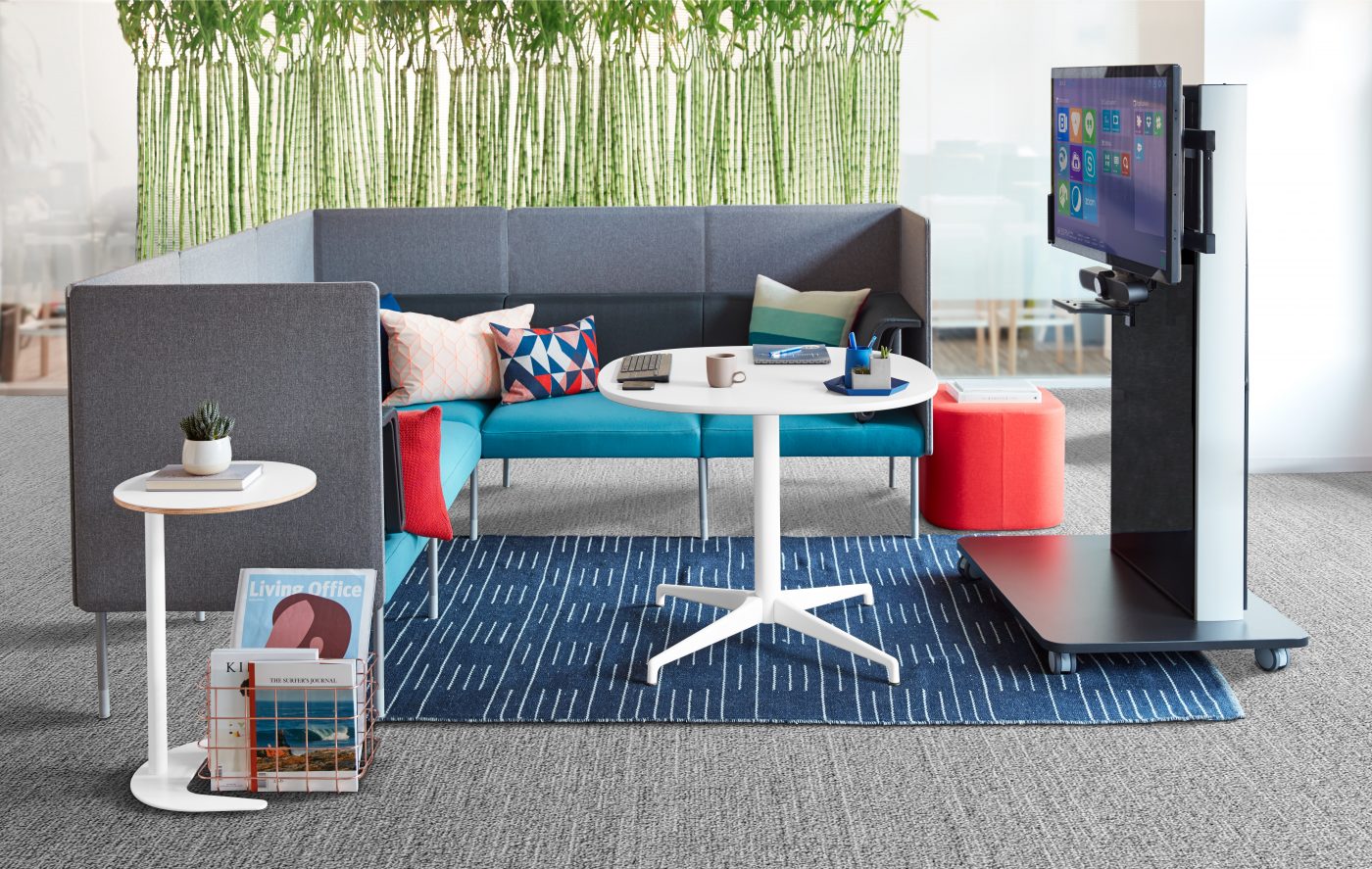 Logitech and Herman Miller Partnership Benefits Customers
Joining forces with Logitech is an example of the companies "understanding how our products can complement each other," says Glotfelty. The partnership began, appropriately enough with Logitech's collaboration products and has since expanded to other product lines.
"Work happens in so many different places today, so it's important for people to be able to produce, create and collaborate to the best of their ability," says Jason Moss, global head of go-to-market and business development for Logitech's video collaboration channel programs.
Herman Miller is "defining settings in a more systematic way," says Glotfelty, noting, "It all starts with people."
"When we understand the activity, that leads us to the surroundings, furnishings and tools," he says. "That helps us elevate the experience."
Logitech set up huddle rooms and meeting spaces with Herman Miller furniture at its offices and surveyed those who used it and those who participated in meetings with Logitech employees remotely to gauge how it worked for them.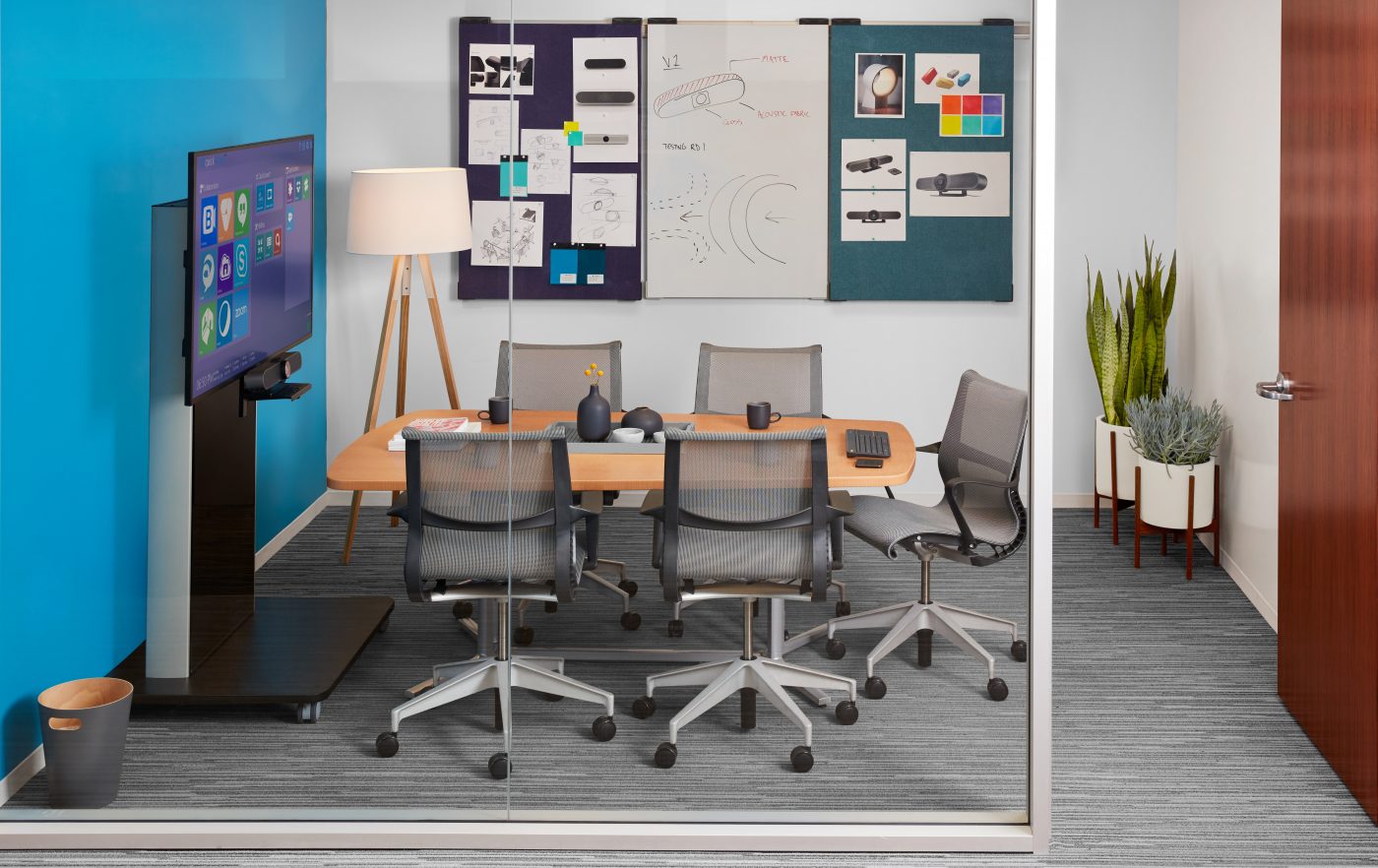 Delta Tech Ops Office Soars Thanks to Logitech and Herman Miller
The companies worked together to deploy a solution in Delta's technical operations office recently, creating a multi-function room with pods that Delta wants to replicate in other locations after seeing how well it's worked in the initial rollout.
"It's about disseminating information instantaneously," says Moss, noting the irony of the new system is it will mean less traveling to meeting for some Delta employees.
"We got the right players at the table from the beginning so we were able to do some pretty great things as a result," says Glotfelty.
Logitech and Herman Miller will continue to work with AV integrators such as Whitlock and Genesis Integration on "living office settings," and Moss expects to see more companies create a position dubbed chief workplace officer, who serves as the bridge between facilities management and IT department leadership.
"The earlier in the process we get involved, the more creative we can be with the solution," says Glotfelty. "If the technology isn't right, the client won't be happy no matter how much they love the furniture. And vice versa if the furniture isn't right, they won't be happy even if they love the technology you put in for them."