Inside the Futuristic Workplace Everyone's Trying to Mimic
Innovative approach by Red Thread creates space where nomadic employees 'do work where we need to work' rather than sticking to one desk all the time.
Photos & Slideshow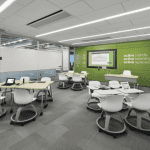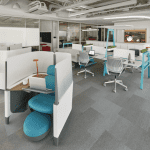 ---
We've heard and written a lot lately about the so-called "workplace of the future." For Boston-based integrator Red Thread, though, the move to a posh new main office in the city's Seaport district was the perfect opportunity to create the office of the future today for everyone to see.
Thanks in large part to its parent company, Steelcase, Red Thread has built a dream office that highlights mobility, huddle spaces and evolving use of conference areas that also serves as a showroom for customers who are wondering how the new approach will work for them.
"We've been seeing other people trying to mimic us," says John Mitton, VP of Red Thread's AV group and the company's chief technology officer. "It's very textural. You have to experience it to truly understand it." Red Thread has been dabbling in virtual reality across its 12 locations around New England but "it really takes putting your fanny in the seat to understand," says Mitton.
AV at Core of 'Alive and Active' Space
CEO Jeffrey Keener saw "a little bit of risk" in being at the leading edge of the workplace of the future trend, but he's comfortable Red Thread made the right decision. "People warmed up to the idea pretty quickly," he says. "Until you actually do it, you don't always understand how the space plays a role in what you're doing or what you can do. I think we benefit from the vibe of having customers in an area that's alive and active."
Watch the video below to take a virtual tour of Red Thread's Boston office
Red Thread Experience Center from EH Media on Vimeo.
That includes the café area that's in the center of the main wing of the office, a space Keener says "feels more alive." The café is flanked by a pair of 84-inch screens that feature news around New England, a news feed about Steelcase and other industry information.
There's also a 3 x 3 video wall that features social media and can show major events such as the NCAA basketball tournament. There are also quiet areas for meetings with customers that can be more secluded.
PHOTOS: Inside Red Thread's Boston Office
"The space hasn't taken the place of us being in the market," says Keener. "It's afforded us an opportunity."
"We've created a buzz in the marketplace," says Mitton. Red Thread president Donald Marshall doesn't see the firm's new headquarters as just a showroom or just an office. It's a little bit of both. "It's not about this being a place to shop," he says. "It's a place where people come to experience how a workplace can better them as a business and engage their employees."
That's especially important in an era where at least one survey shows that less than 15 percent of employees are actively engaged at work, says Mitton. The engaged employee, says Red Thread innovation design consultant Ariana Burdett, falls down and rises up to meet the challenge before him or her.
Perhaps the most recent challenge for Red Thread employees came when most of them lost their own space and gave way to collaboration area, quiet spaces and other communal settings around the new office.
"We had a vision of where this was going," says Marshall. "This seemed like the next logical place people were going with their offices and their work spaces."
Also See: Great Scott! Let's Go Back to the Future of Workplace Technology
Steelcase creates WorkLife centers around the world, he says, with the focus on innovative spaces that show different ways of thinking and working. But Red Thread is home to the first WorkLife center where the distributors are also "living" in the space, says Marshall. It's a way "to show customers what this really means."
"This is a chance for us to tell our story," he says. "It gives people the ability to see, feel and touch and then we can show them how to get here. They feel something different. You want your space to support your business. As the business changes, how can the space change with it? We want technology to become part of who we are and what we do."
Nomadic Office Life Takes Getting Used To
About 20 percent of Red Thread's employees in the Boston WorkLife center are considered "residents," those who have a desk to which they go every day and spend most of their time. The other 80 percent of employees are "nomads" who go from collaboration rooms to large tables to small meeting spaces to classrooms during the course of their days.
If you enjoyed this article and want to receive more valuable industry content like this, click here to sign up for our digital newsletters!