6 Companies That Actually Use the Office Technology They Sell
Spinitar is one of many examples of companies that are immersing themselves in the office technology they install with showrooms that are also their work spaces.
Leave a Comment
Photos & Slideshow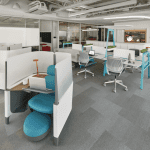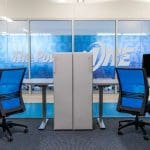 ---
Would you hire a plumber if you noticed a leaky faucet in his office? Expertise in your field is important, and AV integrators are embracing that idea more every day, with many of them opening new offices, adding showrooms or renovating their existing spaces to create the office technology-centric work environments they're trying to convince their customers to let them install.
The concept of AV integrators living and working within their technology first struck me when I visited the new headquarters of Red Thread in Boston, where the company combined the technology it sells and installs with the furniture its parent company Steelcase creates to make an open office space that's eye-catching and shows visitors exactly what they can do with their own space with Red Thread's help.
CEO Jeffrey Keener said there was "a little bit of risk" in being at the leading edge of the workplace-of-the-future trend, but he's comfortable Red Thread made the right decision.
Photos: Peek inside these 6 dynamic office spaces
"Until you actually do it, you don't always understand how the space plays a role in what you're doing or what you can do," Keener said. "I think we benefit from the vibe of having customers in an area that's alive and active."
Living, Breathing … Selling Office Technology
Red Thread is not alone when it comes to making technology part of their everyday work environments. The company that graced CI's first cover in January 2011 — Signet Electronic Systems — recently opened a new office that offers 2,400 square feet for production, assembly, testing and certification and a 14,000-square-foot environmentally-controlled warehouse.
Looking to attract what president and owner Bradford Caron calls "high-energy, fresh, tech-savvy talent," Signet built "an environment designed around state-of-the-art technology and natural light, combined with amenities such as a lounge, café, outdoor patio, individual private lockers, and designer furniture."
Other integrators are getting in on this trend. Ontario, Canada-based Advanced has moved into a 30,000-square-foot facility outside Toronto that features an open concept and an 8,000-square-foot Customer Experience Center with five demo rooms, each with basic digital signage to high-end video walls and everything in between. The new digs incorporate about $1.5 million in AV equipment, says president David Weatherhead.
AVI Systems recently redesigned and expanded its Eden Prairie, Minn., office from 35,000 to 50,000 square feet, adding classrooms for technology training; administrative offices; cubicles for departments like customer support, marketing and sales; and testing labs.
St. Paul, Minn.-based Tierney Brothers grew out of its late-1980s former headquarters with a disjointed layout that created collaboration challenges for employees to an open-concept approach with 20 spaces for various types of meetings.
Spinitar, the subject of this month's cover profile, is especially proud of its two Los Angeles-area showrooms. The company enhanced the Newport Beach, Calif. headquarters of Corporate Business Interiors with $1 million in technology and also recently partnered with Allsteel to open a second showroom in downtown Los Angeles.
I'm not sure why all integrators don't have showrooms to highlight the technology they install. If a potential customer walks into your office and sees a so-called cable nightmare or technology that's anything but top-of-the-line, they're likely to walk away unimpressed. And you only get one chance to make a first impression.
If you enjoyed this article and want to receive more valuable industry content like this, click here to sign up for our digital newsletters!