Spinitar Teams with Office Furniture Providers, Demonstrates Tech Applications in Showroom
Partnership between Spinitar and furniture dealers Corporate Business Interiors and Allsteel Furniture helps clients see how technology enhances spaces.
Leave a Comment
Photos & Slideshow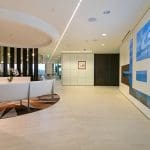 ---
When Spinitar officials saw an opportunity to incorporate the technology they install every day into the Newport Beach, Calif., headquarters of a large commercial furniture conglomerate that caters to large corporations and use the space as their own showroom, there wasn't much hesitation before they said yes.
Sure, the chance to outfit the space owned by Corporate Business Interiors came with a paltry $20,000 budget and the building was in the middle of a compressed eight-month construction cycle, but the chance to be part of this unique opportunity was something they couldn't refuse.
Related: How Spinitar's Self-Directed Teams, 'Family' Culture Helped It Reach $60M
"It's a really cool opportunity," says Matthew Kosel, Spinitar's technology leader and design coach, of the chance to work with CBI. "There's a lot of space and these are real spaces. That's what makes it so important."
Spinitar recently completed a second showroom in downtown Los Angeles for Allsteel Furniture, a commercial furniture manufacturer distributed by CBI. The concept is the same as the CBI building "but it's better for people on that side of town," says Kosel.
Spinitar's First Rollout
The CBI headquarters, which opened about 3 ½ years ago, includes a conference room, several huddle rooms, listening areas, a large lobby and massive entryway that are outfitted with what Kosel calls "very current and contemporary" furnishings and, of course, technology.
"Users have the best experience with new technology when it's integrated into the space," he says.
Because manufacturers donated some of the technology for the CBI facility and much of it is shared between the two entities, Spinitar was able to secure about $1 million in technology for the space, well above the $20,000 budget CBI had discussed.
Photos of Technology Deployed in Showroom
As part of the CBI install, Spinitar incorporated speakers and other technology into pre-fabricated walls—"that's not something we've done before," says Kosel—and collaborated over WebEx to coordinate the integration of Christie MicroTiles in the space. It also includes Tannoy speakers and AMX controls, among other key partners.
While Spinitar doesn't officially have any employees working in the facility, the company hosts many of its initial customer interaction meetings there, to help give prospective clients some idea of what they can do for them and how it will look, sound and feel when it's done, says Kosel.
Spinitar hosts occasional department meetings in the CBI showroom and brings customers to the showroom at least once a year, he says.
Downtown L.A. Digs
Spinitar's second foray into furniture showrooms has Crestron controls and QSC speakers, but the idea and approach was similar to the Newport Beach undertaking, says Kosel. Both spaces have centralized AV systems in which any video source can be routed to any display throughout the space. That wasn't as common at the time Spinitar was working on the CBI installation, he says.
The Allsteel installation has walls that are transformed into speakers and includes an inductive loop system for listening devices. The conference room has a fully integrated videoconferencing system with wired mics, ceiling mics and wireless mics, depending on the users' preference. The mic systems can be swapped out easily with a touchpanel, says Kosel.
That functionality and the ability to show it to a customer before the client had spent money to have it put in their own conference room helped Spinitar land three of its largest recent projects, says Kosel.
The downtown L.A. space includes a smart doorbell with a volume control system that can be muted in the conference room when it's in use and has other unique functionality, including the ability to adjust the chimes.
"Even though furniture is low-tech, there are so many similarities between what we do," says Kosel. "Our systems are constructed in the same ways and we go through some of the same frustrations and budget concerns."
Although Spinitar has no plans for now to add a third showroom to its stable, the first two have been popular with clients and important to the company's growth, says Kosel.
"It's hard to quantify the exact ROI but we wouldn't have opened a second one if the first one didn't help," he says.
If you enjoyed this article and want to receive more valuable industry content like this, click here to sign up for our digital newsletters!