A.C. Lighting, Chroma-Q, Idibri Brighten Up Service At First Baptist Church of Covington
New light fixtures, lighting and media controls highlight the audiovisual and lighting enhancements at First Baptist Church of Covington.
Leave a Comment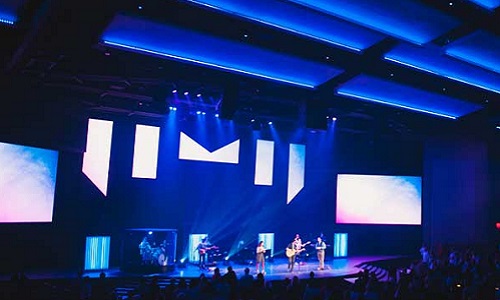 As First Baptist Church Covington's membership grows, so do the features its impressive auditorium thanks to Idibri, A.C. Lighting Inc. and Chroma-Q's brand of lighting products.
Working with technology design firm Idibri and HH Architects, the A.C. Lighting provided the audiovisual and lighting technology for the church's new educational space, a new community space and new auditorium.
The church's technical director Barry Carpenter said the church's services and events partly depend on volunteers, so volunteer-friendly control systems were a critical need.
He said Vista, a Chroma-Q brand of lighting and media control surfaces, is "advanced and powerful enough to pull off complex shows for the experienced user, yet simple enough for the untrained volunteer to operate."
All of the church's spaces with theatrical audiovisual and lighting installations are equipped with Vista control software and hardware control surfaces specific for each space. Currently, five rooms are controlled using Vista.
Why Vista?
Dan Schoedel, senior consultant at Idibri, said the firm recommended Vista for its "graphical way of programming."
"When using Vista, the church doesn't have to memorize channel numbers when programming, which can be freeing. There is also a 'Timeline' view for editing the timing of cues," says Schoedel.
For auditorium house lighting, Idibri recommended the Chroma-Q Inspire RGBW LED fixtures for smooth dimming and color mixing to provide lighting for both traditional and contemporary service.
"For the traditional service, the congregation may not even know the lights can change color," says David Stephens, senior consultant and vice president of Idibri.
"But for the contemporary service, the lighting designer has the ability to bring color elements of the service out into the audience. You're also able to 'choose' your white to pair with the paint and seating colors in the room."
For contemporary services, the lights help members feel more a part of the service, while the traditional settings provide quality white lighting at a brighter level, Carpenter says.
"The Inspire fixtures look fantastic, have very smooth dimming curves across the full color spectrum, and contribute greatly to the mood and 'vibe' of the room," Carpenter says.