AfterShokz Unveils New Stereo Bluetooth Headset at InfoComm 2021
AfterShokz introduced OPENCOMM UC, an upgraded version of the brand's patented bone conduction stereo headset at InfoComm 2021
Leave a Comment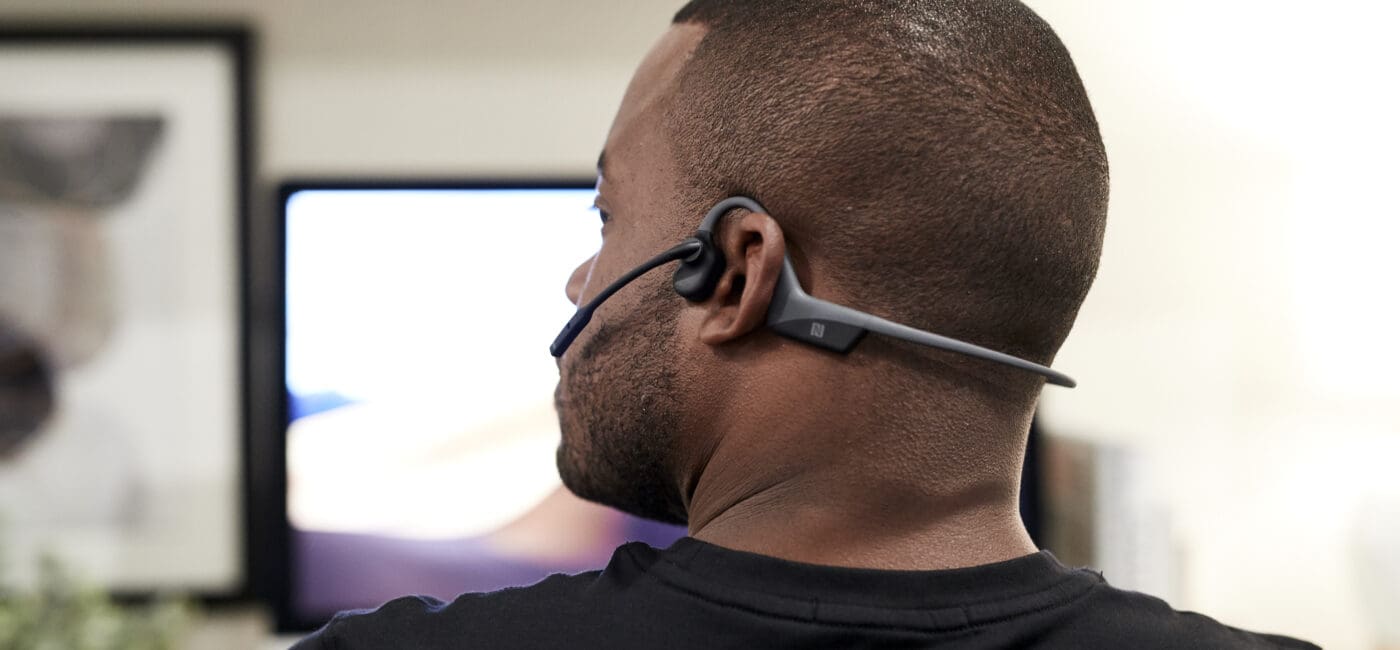 AfterShokz introduced OPENCOMM UC, an upgraded version of OPENCOMM, the brand's patented bone conduction stereo headset for the workplace.
Launched at InfoComm 2021, the OPENCOMM UC premium communication headset added a USB-A wireless adapter to their bone conduction design for better meetings and conversations on all work devices.
According to the company, the wireless USB-A adapter will offer increased compatibility with work devices and the adjustable DSP noise-cancelling boom microphone will provide clear sound on all the major communication platforms such as Microsoft Teams®, Zoom®, or Skype®.
AfterShokz also noted that the headset is engineered with AfterShokz's 7th generation patented bone conduction technology to deliver PremiumPitch 2.0™ audio through the user's cheekbone, thus leaving ears open to environmental surroundings and better connections with coworkers. The device's adjustable DSP noise-canceling boom microphone also eliminates background noise in loud environments to ensure clear voice transmission in various work settings.
The company highlighted some of the features of the OPENCOMM UC headsets which include:
Up to 16 hours of talk time or up to 8 hours of listening time on a single charge. On the other hand, recharging takes about one hour.
Quick Charge feature that provides up to 2 hours of use with 5 minutes of charging, making it ideal for the professional on-the-go.
An accessible multifunction button to answer calls, play, pause, skip or activate a voice assistant with few taps.
Contains Bluetooth® 5.0, which establishes a strong reliable connection to all Bluetooth devices once paired.
Lightweight, comfortable wrap-around titanium frame that is fortified.
IP55 water-resistant protection that is compatible for all-day wear and stays put in virtually any environment, including riding a bike, sitting in a cubicle, or working at a construction site.
"OPENCOMM UC provides exceptional sound and audio quality in a more flexible design that easily works with every type of device people use at their desk. With our open-ear design and superior technology that increases connection among colleagues, AfterShokz has designed a workplace experience that keeps you plugged in all day long," said Kim Fassetta, CMO of AfterShokz.