Airplane, Wallpaper, Roll-Down Displays To Highlight LG's CES Introductions
Leave a Comment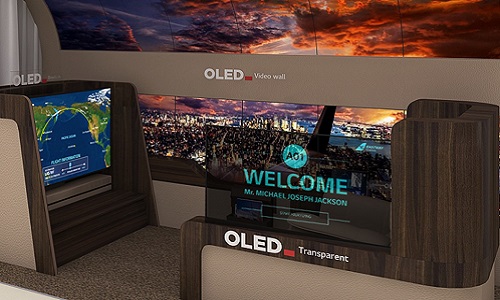 LG announced a series of new display technologies and products it plans to introduce at CES in Las Vegas next week.
Between Jan. 7-10, LG will unveil its newest displays for airplanes, cars, homes, hotels, offices and commercial spaces, the company said in a release Thursday that highlighted a new slogan, "Your Lifestyle with LG Display."
The Verge noted that the company did not say when these products would be commercially available despite LG saying it eyed 2019 releases for some of the products it mentioned.
In the air
One of those customers are air travelers. LG said it is introducing new OLED displays for airplanes, including video walls made of a series of 55-inch OLED displays installed on the wall of a plane. The company said this can make the airplane seem more open in the enclosed cabin.
Other airplane products include a 65-inch Ultra HD Bendable OLED display that can bend at both ends. According to LG, the display will bring amore immersive on-screen experience by adjusting the curvature of the display according to passengers' preference, especially if gaming or watching movies.
LG also plans to unveil a 55-inch Full HD Transparent OLED display that is 40% transparent. It is intended to be used as a partition in the cabin that can show videos and information. The visor feature can be turned on or off.
Stores and offices
LG said its new displays with in-TOUCH technology will have applications for schools, offices, commercial spaces and museums,
Its transparent OLED displays have applications in commercial spaces by providing information easily with an intuitive touch, LG said.A new 86-inch display with in-TOUCH technology in the display will bring better touch precision, clearer picture quality and a slimmer design, and it can be used as an electronic whiteboard by allowing four active pens to simultaneously work on it, LG said.
Hospitality and home
LG said it is also introducing its latest Cinematic Sound OLED displays that have the display's sound system embedded directly into the display.
At CES, LG will show a 77-inch UHD Film Cinematic Sound & Wallpaper OLED display that can be hung like wallpaper. It features the company's new sound system made of films, making the display wafer-thin.
An 88-inch 8K Cinematic Sound OLED display featuring a 11.2-channel sound system will also be on show. The company said this display can transform any space into a personal theatre with the combination of design, picture quality and sound.
LG will also feature a 65-inch UHD Roll-Down OLED display, a new innovation it says is stored in the ceiling, rolled up and pulled down like a projector screen.
The company said it is also unveiling a 48-inch OLED display for the first time in the world, adding to its lineup of 55-inch, 65-inch, 77-inch and 88-inch displays.