ASG Installs Yamaha CIS System in Bay Area Jewish Community Center
Yamaha CIS system is one of the focal points of the Taube Koret Campus for Jewish Life at the Oshman Family Jewish Community Center.
Leave a Comment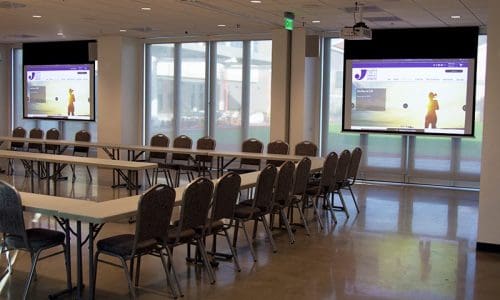 A new two-story learning center was recently added to the Oshman Family Jewish Community Center in Palo Alto, Calif., and Yamaha is an important part of the new recreation space.
The two-story building features a large area on each floor that can be divided in half by a moveable air wall, so it can host up to four different events at once. Each of the four interactive classrooms includes a projector and dedicated audio equipment.
The Taube Koret Campus for Jewish Life is "a welcoming, innovative, multi-generational destination where individuals and families live, learn, play and connect," according to the Yamaha announcement.
The 8.5-acre site is anchored by the Oshman Family Jewish Community Center and since its opening in September 2009, the campus has created a hub for the region's growing Jewish community.
A new audio system in each of the community center areas was installed by Advanced Systems Group LLC  of Emeryville, Calif., and built around a Yamaha Commercial Installation Solutions (CIS) system.
Installation Specs
A Yamaha MRX7-D DSP processor with EXi8 analog input expansion unit and XMV4140-D Dante digital audio network amplifier are housed on the first floor of the center.
Each of the four community center areas includes a Yamaha VXS10STW surface-mount speaker and six VXC8W ceiling speakers.
"Although it was a relatively easy AV install, the learning center has hard, glossy floors and windows, so we had to take the reflective surfaces into account for the audio performance," said Jodie Capriotti, sales account manager for Advanced Systems Group, in the announcement.
"The modular, expandable, and easy-to-install Yamaha CIS system was ideal for this application."
Because the MRX7-D's design architecture is freely configurable, it allows an audio engineer to create a unique solution for the customer which can incorporate many unique processing components and maximize the use of available DSP.
Having built in Dante connectivity, it also allows audio systems to take advantage of the many other Dante enable products on the market including Yamaha's wide range of Digital Mixers.
VXC and VXS speakers accommodate a growing list of applications in the installation market. While these speakers deliver Yamaha sound quality, they have also been carefully designed for safe and easy installation in either ceiling or surface mount models.