An AV Workforce Pipeline Requires Educational Partnerships
As industry groups like AVIXA and NSCA are working to expand the audio visual workforce pipeline, AV integrators should look to educators.
Leave a Comment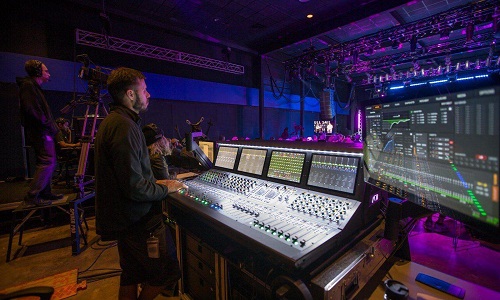 Despite the efforts of industry associations like AVIXA and NSCA, maintaining a young, ready-to-go audio visual workforce remains one of the key issues for integrators. In fact, it's the largest growth inhibitors at California-based integration firm Spinitar.
Finding quality AV talent is such an issue that the company has had to pass up lucrative projects, including a recent $1.2 million project at a higher education institution in Arizona.
"We said we can't do it," said Jeff Irvin, a principal at the firm. The university is an existing customer and a good one, Irvin adds.
"We simply did not have the resources to be able to perform," he said.
Like many other integrators, Spinitar relies on a variety of sources to find new workers, but those wells have been drying up as the number of professionals entering the workforce on a career path in AV isn't keeping up with the industry's growth.
"We're kind of turning over stone's in just about every place that we know imaginable," Irvin said, saying the education and awareness efforts of the industry's two largest advocacy groups have not gone far enough.
Education is key to audio visual workforce development
According to the NSCA, its members have an average of seven job openings and an overall headcount of about 40 employees, meaning a large chunk of the industry is unfilled.
NSCA has recognized this issue and launched the Ignite initiative in 2016, which is aimed at spreading the word about the relatively obscure industry and creating excitement about the career path.
Kelly Perkins, who helped launch the initiative, said the firms that have been successful in developing that talent pipeline have formed partnerships and relationships with local colleges and universities, including some that don't even offer a traditional audiovisual education.
For example, one company sources talent from a local tech school's audio engineering program based on their project needs. Sometimes, those students are offered a full-time job after graduation.
"Everyone is looking for an easy way out," Perkins said, adding that spending money on recruiters and posts on job boards only goes so far.
Instead, Perkins suggested partnering with educators from all levels, including high school, vocational schools, trade schools, tech universities and community colleges.
"if they actually took time to go find young people and put in that effort to train them and bring them on — it's so much cheaper, but it involves effort," she said.
For students that take up those programs, placement is nearly 100%, Perkins said.
AVIXA, the larger industry association, offers a similar program through the AVIXA Foundation that can bring AV curriculum to local educational institutions. The Foundation counts 21 high schools, technical schools, colleges and universities among its educational partners in locations ranging from Massachusetts to California.
Full Sail University in Florida — included in AVIXA's list of education partners — has offered a show production degree for more than 20 years where students learn about a variety of AV-specific career paths. Although an installation-and-design-specific course has been dropped, that curriculum now bleeds into other coursework.
At their career fairs, industry giants like Ford AV and Planar scout the crop of AV students for new talent, said program director Mark Johnson.
The university's AV program has even attracted the likes of industry trade show behemoth InfoComm, which toured Full Sail's new esports arena this summer.
A more focused approach
Aside from Full Sail University, Columbia College Chicago is often mentioned as an industry education partner, offering programs in sound engineering, communications and interactive arts.
However, many integration firms don't make use of either industry group's hiring resources due to a lack of awareness or recruiting resources.
Lifeline Audio Video Technologies, based in the rural town of Platteville, Wisconsin, hires people with IT degrees, music experience and electricians to fill their small staff of 12.
The company will also hire someone with no technical experience at all and train them, which can take more than a year until they're ready to take on projects themselves, said President Scott Wright.
It's clear that the industry needs to find its way into the textbooks of high school, colleges and universities around the world. Going further than that, a more focused and concentrated approach would be incredibly beneficial for the entire industry.
Irvin, of Spinitar, recommended establishing an AV-specific trade school — perhaps the industry could pool its resources, or someone makes this endeavor a second career.
"Integrators, manufacturers and consultants would be knocking on that door," Irvin said. "it's just a shame. It's a huge need and a huge deficiency in the industry."
If you enjoyed this article and want to receive more valuable industry content like this, click here to sign up for our digital newsletters!