Renkus-Heinz Modernizes Audio at 200-Year-Old Baltimore Basilica
For the 1,200-seat Baltimore Basilica, Renkus-Heinz ICONYX arrays emerged as the ideal solution to improve speech intelligibility.
Leave a Comment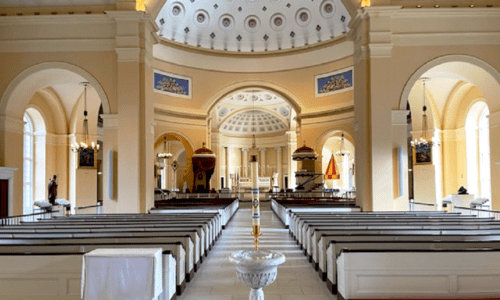 Constructed between 1806 and 1821, the Baltimore Basilica became the first Roman Catholic cathedral built in the U.S. It is a national historic landmark that seats around 1,200 people. The Basilica underwent extensive restoration between 2004 to 2006. Here, it implemented modern systems throughout the building while restoring the interior to the original design.
As with many houses of worship, the high ceilings and ubiquitous hard surfaces presented a challenging acoustic environment. The room reverberation measured 4.5 seconds at mid frequencies and 6.1 seconds at low frequencies. Digitally steerable arrays from Renkus-Heinz thus emerged as a suitable solution to improve speech intelligibility.
Addressing the Acoustics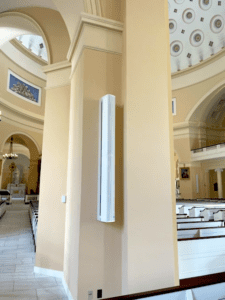 To improve acoustic performance, the Archdiocese of Baltimore Basilica turned to Neil Thompson Shade, FASA president and principal consultant of Acoustical Design Collaborative, for help. With experience in over 1000 projects, many dealing with historic preservation and houses of worship, Shade could help alleviate the Basilica's acoustic issues. "'Breathtaking' is the only word I can come up with to describe the architecture," says Shade. "Everything in the 200-year-old church's interior had been restored to its original condition. The high, domed ceilings in the nave and above the congregation are beautiful but certainly added to the reverberation challenges."
The church contracted with HP Electronics to install and commission the four IC16-RN digitally steerable loudspeakers called for in the audio redesign. A member of the Renkus-Heinz ICONYX Gen5 Series, the IC16-RN gives sound system designers the power to create a system to cover even the most problematic spaces. It comes with up to eight steerable beams that can be individually shaped and aimed. Their triple tweeter "array-within-an-array" design reduces the distance between high-frequency sources. This then provides vastly improved performance with consistent, broad horizontal dispersion.
A Resounding Success
After commissioning, the average room Speech Transmission Index for Public Address Systems (STIPA) — a quantitative measure of speech intelligibility — increased from 0.42 (poor) to 0.55 (fair). This indicated a significant gain based solely on four loudspeakers. The Archdiocese staff and clergy then expressed their delight with the improved speech intelligibility. They also appreciated the minimal disruptions during installation to ongoing worship services.
"Because the Basilica is a historic building, sensitivity to aesthetics was an important consideration when selecting new loudspeakers. We could immediately tell that the Renkus-Heinz Iconyx loudspeakers were the right way to go," Shade reveals. "The Basilica has a full calendar of activities and services, seven days a week, so the ease of installation and commissioning were significant factors in the success of this project."
If you enjoyed this article and want to receive more valuable industry content like this, click here to sign up for our digital newsletters!