AtlasIED Atmosphere Gains EU Approval During ISE Debut
AtlasIED will showcase its Atmosphere platform for the first time at ISE 2022 following its sale and use approval in Europe and U.K.
Leave a Comment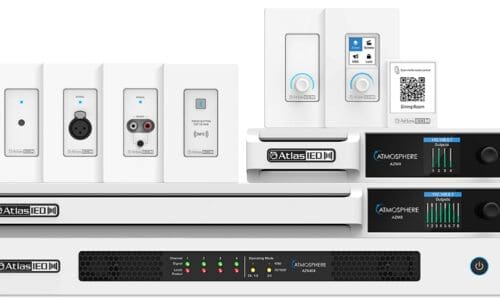 Phoenix, Ariz.-based AtlasIED secured approval for its Atmosphere digital audio system during its overseas debut at ISE 2022. This approval allows the platform of interoperable, feature-rich digital audio solutions to be sold and used in projects throughout Europe and the U.K.
Launched successfully in 2020, Atmosphere is easier to configure, install and operate than traditional digital audio systems, says the company. The system also offers the modularity, scalability, versatility and quality performance required to support the audio needs of a wide range of commercial applications. These include restaurants, bars, hotels, school campuses, houses of worship and retail establishments.
Additional Features
Additionally, Atmosphere integrates a host of technologies. Some examples include touchless control, automation and artificial intelligence. With these, it provides a simple and convenient way to manage audio. All of the components interoperate seamlessly, thus minimizing training time and installation, configuration and programming headaches for AV integrators. For end users, Atmosphere's ease of use reduces the learning curve. It also increases customer/employee satisfaction and engagement.
"AtlasIED actively listens to our partners in the AV community and Atmosphere is the result of those valuable conversations, offering a comprehensive product platform that provides unprecedented benefits to both integrators and end-users in Europe and the United Kingdom," says Dean Standing, international sales manager, AtlasIED.
Standing continues, "We developed Atmosphere to streamline and simplify the process for integrators to provide their customers with a high-performance, intuitive and design-friendly digital audio system without the typical installation and configuration challenges."
Also Read: Kramer Presents New Vision and Brand at ISE 2022
AtlasIED will showcase Atmosphere and its several key components at stand #7Q750. These comprise an eight-zone and four-zone audio processor (AZM8 and AZM4), wall-mounted controllers for volume, source and zone selection; remote input devices for RCA, XLR and Bluetooth. Other components include a technologically advanced ambient noise sensor, and 400- and 800-watt, four-channel power amplifiers.
Per a statement, AtlasIED will also showcase Atmosphere's latest firmware update featuring upgraded noise detection sensors at ISE 2022. It will also demonstrate the open API that facilitates third-party control support for manufacturers like Crestron, AMX and Extron. In fact, each of these recently released control modules that allow for the Atmosphere API to be natively controlled within each brand's programming environment.