Yamaha Covers Every Pro Audio Application at Winter NAMM 2020
NAMM 2020 serves as a showcase for some of Yamaha's newest products, including loudspeakers, rack-mounted audio and more.
Leave a Comment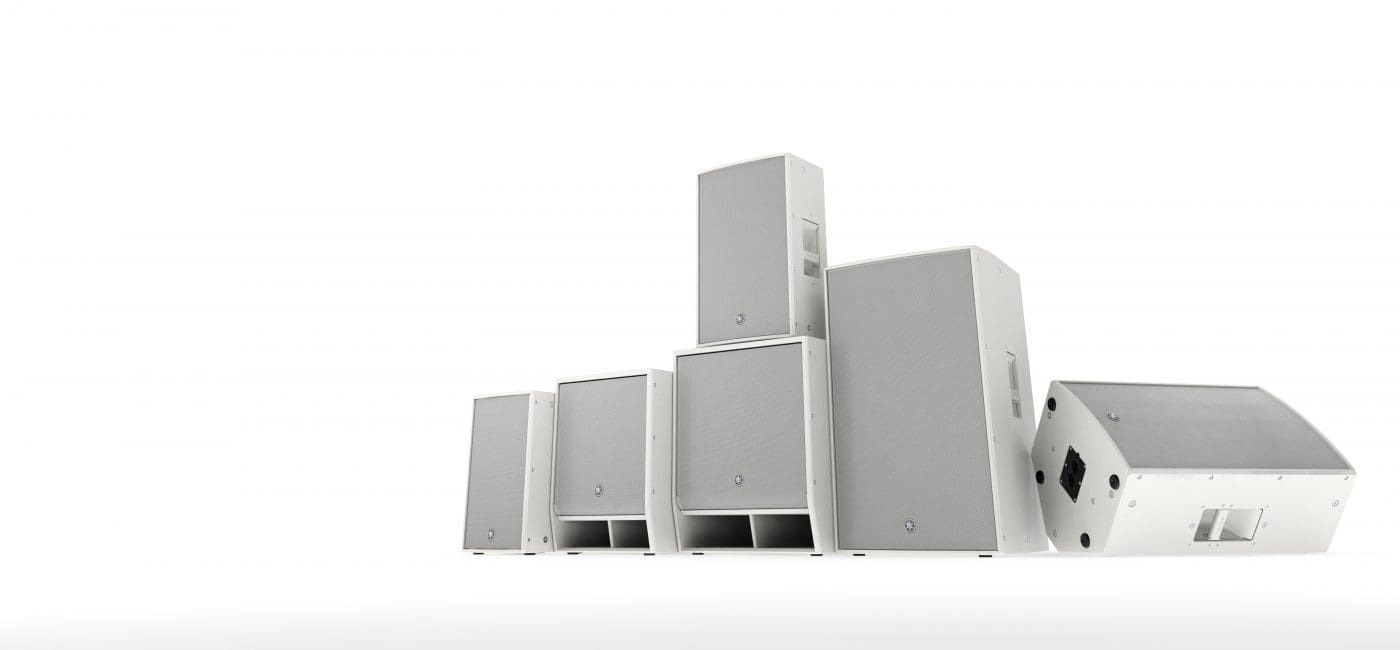 Yamaha is highlighting its newest professional audio and live sound products, plus the latest audio production tools from Steinberg Media Technologies and loudspeakers from NEXO, both Yamaha companies, at NAMM 2020.
Product highlights at NAMM 2020 include:
Yamaha DZR/CZR Speakers – White Finish
Yamaha is expanding the installation options for its powered DZR/DXS-XLF and passive CZR/CXS-XLF professional loudspeakers and subwoofers, adding a white finish version for each model.
The white cabinets fit a broader range of sound system requirements, especially in spaces where aesthetics and design are equally important as sound coverage and performance, including churches, museums and upscale environments like high-end retail or hospitality venues.
The DZR line of powered speakers, along with the DXS-XLF powered subwoofers, use high-performance components and the latest DSP to provide superior audio quality. The digital processing in all powered models is done at 96kHz.
This high speed, combined with a newly developed Advanced FIR-X tuning technology, minimizes latency and phase distortion.
The DZR and DXS series are also available with Dante integration. These "D" models incorporate smart system integration with Yamaha consoles and other Dante devices through a 2-in/2-out I/O configuration.
Using the speakers' built-in analog I/O and Dante break-IN and break-OUT capabilities enables flexible routing and easier system configuration and set up.
Steinberg Dorico SE
Dorico SE is an introductory and free version of its advanced music notation software, designed as an ideal starting point for beginning composers and arrangers and fully compatible with the other products in the Dorico family.
Dorico SE features include:
Sequencer-style Play mode, complete with piano roll editor, velocity editor, automation lanes for MIDI controllers, and a unique new dynamics lane that allows tweaking of the playback effect of dynamic markings written in the score.
Support for all VST 3 instrument and effect plug-ins, in addition to the included HALion Sonic SE 3 sampler with more than 1,000 production-ready sounds, and a suite of 30 effects plug-ins.
A full audio Mixer
Easy export of audio files in MP3 and WAV format.
Steinberg AXR4U
Steinberg's new, rack-mountable AXR4U audio interface provides a USB-C alternative to the already available AXR4T Thunderbolt interface.The AXR4U audio interface provides USB 3.0 data transfer with USB-C connectivity.
The AXR4U's front side provides four easily accessible Neutrik combo inputs and two headphone outputs with individually adjustable level controls. The rear panel comes with eight TRS line inputs and eight TRS line outputs.
Also available are two pairs of ADAT I/O doubling as S/PDIF, the second of which provides an alternative AES/EBU Sub-D connector. Overall, this counts to 28 channel inputs and 24 channel outputs.
NEXO
The new NXAMP4x4mk2 represents the most powerful amplifier in the range, delivering 3,300 watts per channel in four Ohms and 4,500 watts per channel in two Ohms.
Weighing about 55 pounds in a 3U package, the 4x4mk2 is smaller and delivers 12% more power than its predecessor. The NXAMP's Series of mk2 ultra-low distortion Class D amplifiers combines 32-bit/96KHz converters and 64-bit signal processing.
Users can set all functionality from the simplified front panel, which features just one knob and a large LCD color touchscreen. The tactile graphic display enables faster and easier navigation, providing direct access to all essential parameters.
On the back, four high-end analog inputs use cascaded converters for low output noise.
Four digital inputs are available through the rear-panel expansion card slot offering optional AES/EBU, EtherSound, Dante or AES67 inputs, all with automatic analog fallback and providing long-term network management flexibility if protocol preferences change.
A native dual Ethernet port offers seamless integration with NEXO's NeMo system management software.
NEXO is adding the P8 and P10 compact, lightweight and multi-purpose point-source enclosures to its P+ Series. The two new compact, lightweight and multi-purpose cabinets join the P12 model to give sound designers and engineers more production options and flexibility.
NAMM 2020 runs through Jan. 19 in Los Angeles.