Budgeting Better Meeting Room Audio is Critical (The Argument)
When we talk about budgeting for meeting room AV, the meeting room audio aspect is often left behind in favor of video. That's a huge mistake.
Leave a Comment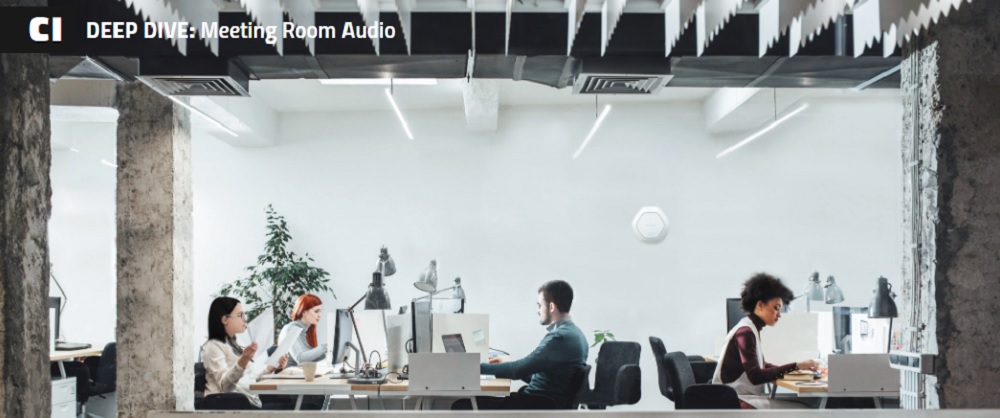 Video and collaboration products may be sexier, but meetings are doomed to fail without a quality meeting room audio system. Customers just need a little education on budgeting for audio better.
The centerpiece of a great meeting room is increasingly the video display on the wall, where conferencing is hosted and video collaboration takes place. We get that. Too often, however, customers forget that meeting won't take place at all without quality audio.
Microphones and speakers are required for those video meetings. In fact, it's easy to argue that audio is far more important to a meeting room than any video component.
The problem is that you wouldn't gather that by looking at most customers' meeting room AV budgets.
"Way too often, clients don't know or consider what it takes for proper room audio," says Christopher Maione of AV consultant Christopher Maione Associates.
That can be a problem, not just for the client but for the integrator or consultant that will have to answer to them.
It doesn't really matter if the client opted not to budget for key audio aspects of a meeting room solution. They'll still blame the integrator or consultant if they're not happy with the return on their meeting room audio system investment.
As such, it falls on those integrators and consultants to educate customers and guide them toward making sure they consider audio along with the other components of a meeting room.
Customers might overlook factors related to room size and planning microphone placements — ceiling or table — that will adequately cover all meeting participants.
A good rule of thumb is, "one mic element for every two to two and a half participants in the room," Maione adds.
"A typical conference room table with 14 persons could require up to six microphone elements properly spaced on the table or in the ceiling. What the clients don't also realize is the microphones need to be connected to a mixer/DSP in order to provide proper mixing, equalization and echo cancellation — all items which are required for good sounding, stable audio."
These are audio factors that customers are apt to overlook when creating their meeting room budgets. Too often, these oversights lead to subpar solutions.
So we asked AV professionals why it's so important for integrators and consultants to make sure their customers budget accordingly for meeting room audio. Here's what they said:
Robert Moreau, managing director, Clockaudio North America:
"A good sounding room requires having high end equipment and the right microphones, while the acoustics of the room will likely be one of the most important part in achieving good speech intelligibility. Good acoustics, the right choice of microphones and their location with the proper sound processing will significantly improve speech intelligibility and will help keep the conversation going.

"In budgeting for your meeting room audio, it is imperative to look at all aspects of the project before choosing what equipment to use. Acoustic dampers (which have evolved into works of art), sound processors, microphones and speakers should be planned carefully to work symbiotically to optimize the system's performance."
Marc Happes, product manager – unified communications and Conferencing, Bose Professional:
"It's so important to educate customers because with meeting room audio it's a 'pay a little now or pay a lot later' scenario. Companies have a clear choice: Either invest in quality meeting room audio at the start or pay an enormous price in terms of team confusion, frustration, and lost productivity for years to come.

"Everyone has been on a terrible conference call — clear communication is invaluable for keeping a team motivated and engaged. And with more and more employees working remotely, it becomes even more important."
John Urban, product marketing manager, software & video, Biamp:
"Audio is all too often an afterthought for meeting rooms and other spaces. Most people are driven by visuals, since sight is our primary sense. If the room looks great, often it's assumed it'll sound great, too.

"Integrators can tell a very compelling story around the importance of audio in a meeting room by providing recordings of a reasonable approximation of what a space will sound like to both near and far end participants. It makes it real for the customer at that point and may influence room priorities."
If you enjoyed this article and want to receive more valuable industry content like this, click here to sign up for our digital newsletters!