Pure Resonance Audio Adds C6 & C8 70-Volt Ceiling Loudspeakers
Pure Resonance Audio's latest C6 and C8 70-volt commercial ceiling loudspeakers can be used for background music, sound masking and paging.
Leave a Comment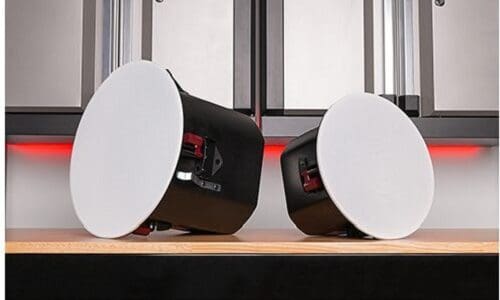 Woodway, Texas-based Pure Resonance Audio has announced the latest additions to its product line: The C6 and C8 70-volt commercial in-ceiling loudspeakers.
Pure Resonance Audio says that its latest products can be used for a range of commercial applications that include education and business usages such as background music, sound masking and paging. The C6 model is a 6.5-inch in-ceiling speaker, and the C8 is an 8-inch in-ceiling loudspeaker.
The C6 model features a 30-watt, 70-volt transformer, along with an 8-ohm bypass; a 6.5-inch woofer and an adjustable 1-inch tweeter. Pure Resonance Audio points out the in-ceiling speaker complements environments such as classrooms, conference rooms and other similar rooms. The speaker is rated to be 88dB sensitive and it provides a frequency response of 130Hz to 17kHz.
The other new ceiling speaker from the commercial audio company is the C8. The company points out the C8 ceiling loudspeaker employs a 1-inch pivoting tweeter, along with an 8-inch woofer. Pure Resonance Audio states the speaker incorporates a 60-watt, 70-volt transformer with an 8-ohm bypass option. The C8 is specified to be 94dB sensitive, and it is capable of producing a frequency response of 55Hz to 20kHz. According to the company, the C8 can be used to address audio installations in retail stores, restaurants, hospitality venues, auditoriums, classrooms and conference rooms.
Both models also provide removable magnetic grilles with front access to their respective 70/100-volt multi-tap transformer switches.
In addition, Pure Resonance Audio supports the C6 and C8 speakers with optional tile bridges to foster the products' installation in tile ceilings.
This article originally appeared on CommercialIntegrator's sister-site CEPro.com.