Audix and Servoreeler Deliver Clever Microphone Solution for Conference Room Upgrade
Retractable microphone system from Audix and Servoreeler maintains clutter-free table for University of Florida high-profile conference room.
Leave a Comment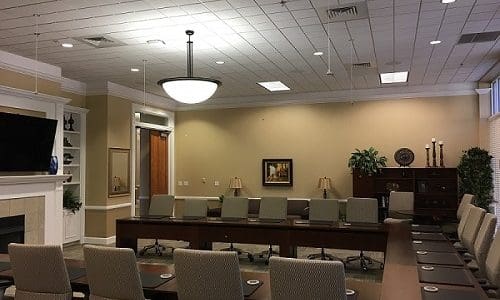 Check out any table in any conference room and you'll likely see a web of cords and connectors strewn across the surface. Many organizations and business just put up with the clutter, but for a high-profile conference room at the University of Florida, the school administration demanded a cleaner, less conspicuous solution.
Specifically, the school administration wanted a microphone system that wouldn't intrude on the cosmetics of its Center for Preeminence conference room or create a visual distraction for attendees.
As host to high-end meetings within the university's Emerson Alumni Hall, the Center for Preeminence required a significant update from its current A/V configuration, which included only a small display and phone system.
"Table mics weren't an option, because of the requirement to keep the tables clear and a lack of any good cabling route to the tables," says Lon Vance, senior engineer and project manager for Audio Visual Systems at the university.
"In a situation like this we would normally install ceiling mics, but the client did not want to see the microphones when not in use."
Why they went with Audix and Servoreeler…
After researching alternatives, Vance found a solution: the Audix M3 tri-element ceiling microphone with a Servoreeler precision retraction system. 
It was a combination that came highly recommended by industry colleagues and would meet the expectations of the university: high quality, discreet, and minimal visual distractions.
The Audix M3 is designed to hang from the ceiling and incorporates three phase coherent capsules with tailored frequency response optimized for speech intelligibility.
The Servoreeler consist of mechanisms that store, deploy, retract and position a suspended microphone cable by remote control. The control piece of the puzzle is a Crestron touchpanel.
"The Servoreeler allows the mics to drop low enough to get away from AC, ceiling and projector noise, which are usually a pain to deal with," Vance explains.
"The M3s pick up the whole room really well with no dead spots and when not in use they virtually disappear into the ceiling." Another advantage of the Audix M3 microphones, adds Vance, is the ability to control via a Crestron touch panel the microphone's three capsules.
As for the installation of the Audix/Servoreller combo? "I expected small hang ups, having never worked with Servoreelers before," Vance says.
"Instead, I found the Audix mics easy to install, easy to use and a breeze to integrate into a control system."
The silicone jacketed microphone cable ensures a balanced, shielded signal and a clean look. Electronics above the ceiling are housed within a plenum rated junction box.
The entire microphone installation was able to be installed in a half day; the entire room upgrade took a day and a half.
Read Next: Pro Microphone Sales to Grow While Margins Fall, Says Futuresource Study
Now with the discreet, quality, retractable microphones in place, the University of Florida has a highly professional space for alumni, faculty and staff to conduct fundraising activities, lectures, conferences, receptions and other special events.
The combination of Audix M3 microphones and Servoreeler retraction system was a key part of the conference room's much needed A/V update.