CoStar Group Upgrades Irvine Office with Ultra-Fine-Pitch LED Displays
The online real-estate-auction provider revamped its Irvine office with ultra-fine pitch LED video displays from SNA Displays.
Leave a Comment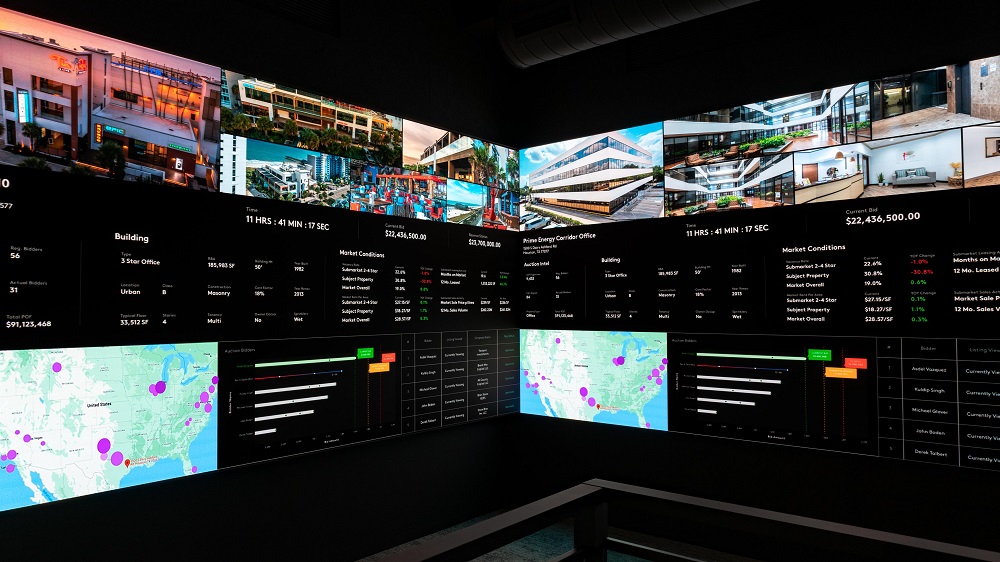 Photos & Slideshow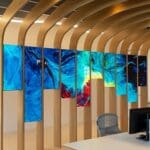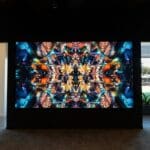 ---
CoStar Group, a provider of online commercial and residential real-estate marketplaces, added several ultra-fine-pitch LED video display systems to its Irvine, Calif., office. The newly upgraded space provides a cutting-edge digital platform for conducting online commercial real-estate auctions and negotiated bids.
SNA Displays manufactured all of the digital displays from its BRILLIANT Interior line of LED video technology.
Reception Area
The reception area's unique digital display integration gives visitors their first taste of the new innovative technology at CoStar Irvine. The lobby centerpiece is primarily artistic, with a sleek, modern design featuring 10 vertically oriented 1.2 mm LED screens of varying, staggered heights, each suspended between wooden columns. The 10-display setup portrays artistic and mood-setting content.
Ultra-Fine Pitch LED on the Auction House Floors
CoStar's office includes two large auction house floors arranged like command-and-control centers. SNA Displays built a pair of 60-foot-long, three-sided LED videowalls for the auction floors, where staff monitor and analyze online auctions. Each of the displays are about 7-feet tall and 60-feet long, turning at 90-degree angles to provide an immersive experience for viewers. With a tight 1.2 mm pixel pitch, each auction-floor-display system has a resolution of 2,160 x 12,960 pixels and processes a total of 23.5 million pixels. Each display is capable of showing content that spans the entire three-sided canvas or can be segmented into various content streams and visuals.
Between the two auction areas is another videowall, an ultra-high-definition screen that employs an incredibly tight 0.9 mm pixel pitch. At 6 feet by 8 inches x 11 feet 10 inches, the 4K LED videowall processes 8.3 million pixels.
Building the digital alcoves on either side of the center videowall required precise installation, giving the room the look and feel of a command and control center with screens enveloping desks and providing multi-input data streams to manage online auctions. The configuration promotes a collaborative work environment and provides enhanced data visualization for multiple teams working with many data streams simultaneously.
Costar Irvine Video Overview from SNA Displays on Vimeo.
Processing All That Data
The backend for the LED display systems at the CoStar Irvine office includes SNA Displays equipment, Analog Way processing, and ~sedna playback technology.
"The requirement was to drive two enormous 2,160 x 12,960 LED walls independently, as well as a center UHD LED wall," says Seth Teates, senior regional sales manager at Analog Way. "Each screen needed a full-resolution native background layer and up to eight 4K layers on-screen at once. The mission-critical, reliable processing of the Aquilon C+ processor was ideal for this scenario, and masterfully installed by SNA Displays' engineering team."
The display system employs Creator, ~sedna's content management system offering a versatile platform for ensuring seamless playout results. Additionally, ~sedna provided three Media Engine 8K media servers, which provide frame-accurate and high-quality media playouts.
"Analog Way's processors and ~sedna's playback technology works in perfect unison with SNA Displays' onsite diagnostics, providing full operational overview of all systems deployed," says Pat Green, vice president of systems at SNA Displays. "These partners have demonstrated through years of engineering and success stories to be the best suited for this command-and-control environment, ensuring 100% uptime during operation."
Combined, the CoStar Irvine LED display systems process more than 58 million pixels.
Click 'View Slideshow' to see more images of the LED video display system at CoStar Group's Irvine office. 
If you enjoyed this article and want to receive more valuable industry content like this, click here to sign up for our digital newsletters!