Samsung Introduces WAC Interactive Display for Education
Samsung's WAC Interactive Display is a new education-focused interactive device designed to enhance usability, connectivity and more.
Leave a Comment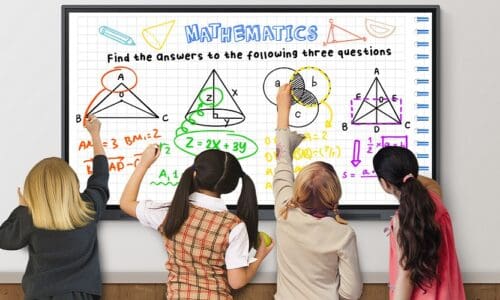 Samsung is releasing a new education-focused interactive display designed to enhance usability and connectivity and enable fast user adoption.
The new Samsung display, the WAC Interactive Display, allows educators to customize home screens, share up to nine screens at once regardless of operating system or device, and use intelligent applications to aid in lessons. In addition, the display features integrated WiFi and Bluetooth connectivity.
The WAC is available in 65-, 75- and 86-inch models and can integrate into any classroom setting, allowing teachers to move around the classroom while students wireless cast to the display and collaborate on work from their own devices, the company says.
The WAC also features a 3-in-1 USB-C port, which enables hassle-free screen connection, touch control and eternal device charging. An HDMI out function also allows educators to share content on a projector or larger screen.
The WAC display allows users to use a pen or their fingers to write and draw, with multi-touch support for up to 20 people. In addition, the display comes with a dual-point pen that can write with two different color son each side.
For management, the WAC series includes a device management solution (DMS) that allows remote device monitoring and control, including powering on and off, volume and brightness adjustment. The DMS also provides emergency response capabilities, including the ability to send alerts to all screens installed across the campus.
The Samsung Whiteboard App can also be installed on the WAC Interactive Display, allowing educators and students to connect their Windows OS devices to write on top of content from their own screens and have annotations appear on the display in real time.
Users can also store, access and share content, documents, screen captures and recordings via the device's built-in cloud drive integration.
The company officially unveiled the device at education technology conference British Education Training and Technology (Bett).
"Our education technology is designed to equip educators with the tools they need to engage students and enrich any learning environment," says Hoon Chung, executive vice president of visual display business at Samsung Electronics. "At Bett, we are excited to showcase our interactive display solutions, demonstrating the level of advanced usability and interactivity required for the tech-enabled future of education."
Another version of this article originally appeared on our sister-site My TechDecisions on April 3, 2023. It has since been updated for Commercial Integrator's audience.
If you enjoyed this article and want to receive more valuable industry content like this, click here to sign up for our digital newsletters!