Tightrope Carousel Digital Signage Unveils Product Update
A Tightrope Carousel Digital Signage software update will be introduced at DSE 2018 to aid with the integration of BrightSign Media players.
Leave a Comment

At the upcoming Digital Signage Expo (DSE 2018), Tightrope Carousel Digital Signage will introduce software updates.
According to Tightrope Media Systems, the forthcoming software release will tighten the integration of Carousel with BrightSign media players.
"These enhancements offer enormous benefits to the integrator that wants to deploy of players in a bulk configuration with common settings and make adjustments by recalling the serial number at later dates," says Eric Henry, president, Carousel Digital Signage.
"And since player grouping is managed within the Carousel user interface, it's far easier to manage multiple players at once across larger networks.
The systems integrator or technology manager in charge of installations and field service can operate from their office or mobile device. We're removing the need to ever roll a truck again, so long as BrightSign media players are delivering the content for your Carousel network."
Tightrope Carousel 7.0 Eliminates Disruptions
The Minneapolis, Minn.-based company says the launch of the software update is its biggest product development move since the introduction of the Carousel 7.0 product in 2017.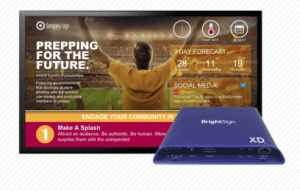 Tightrope says Carousel 7.0 simplifies the content creation and management processes to provide users with a combination of creative control, data support and scalability.
Another benefit of the Carousel 7.0 software that Henry points out is that its firmware management features help customers deal with automatic updates that could potentially disrupt content playout.
"Users can lock their BrightSign players from automatic firmware updates, which allows our customers to manage their signage content and networks more effectively," comments Henry.
Read Next: University of Minnesota Now Has 275 Digital Signage Displays with Carousel 7.0
"Players can also be restarted remotely, eliminating yet another traditional field-service job."
Tightrope Carousel Digital Signage adds that its digital signage solutions can be used for applications such as wayfinding, interactive kiosks, video walls and digital menu boards.
Carousel Digital Signage will be exhibiting in booth number 1336 during DSE 2018.