VuWall Application Server Simplifies Videowall Deployments
VuWall's newest Application Server delivers versatility and scalability to videowall deployments in AV-over-IP environments.
Leave a Comment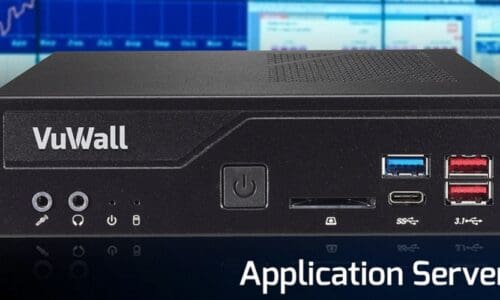 VuWall, prominent in videowall control systems and unified visualization solutions, launched the Application Server. Per the Montreal-based company, it is a cost-effective appliance for streaming, sharing, controlling and visualizing websites and applications across AV/IT networks. The Application Server is thus a scalable and versatile solution that simplifies videowall deployments. To do so, it provides quick access to websites, dashboards and applications from a single, centralized source.
"In today's control rooms and corporate workspaces, visualizing content from websites and applications is a must. The challenge is that customers want to visualize many sources at once," says Mark Schmidt, CTO of VuWall. "Traditional videowall control systems are deeply burdened by this demand with respect to performance and security. We are very excited to introduce the Application Server as the latest addition to our product family to address this critical need efficiently and cost-effectively."
VuWall's Application Server improves both operational and overall videowall system performance. It centralizes web browser and application deployments in a single appliance. This eliminates loading times and alleviates processing power from the videowall itself.
Additional Features
The Application Server also increases security by isolating browsers and applications into one secure virtual machine architecture. Thus, it prevents unwanted access and intrusions. It also features multi-platform compatibility. With this, it is possible to open applications and web browsers on any underlying operating system, whether Windows or Linux.
Also Read: NETGEAR and Vuwall Partner To Enable Next-Generation Videowall Deployments
Moreover, it provides a way to access and interact with an unlimited number of websites and applications from anywhere on the network, easily, reliably and securely. The Application Server delivers a scalable design that can grow to accommodate the number of sources needed without affecting other devices on the network. It also facilitates seamless maintenance of certificates, licenses and plugins for IT professionals.
As part of VuWall's ecosystem, the Application Server is compatible with the company's TRx software platform. Easy to set up and configure, it is perfectly designed to work with VuWall's PAK video wall nodes and VuScape video wall controllers for multi-room visualization, situational awareness, control rooms operations and corporate applications.