Can Virtual Concerts Be an AV Moneymaker During COVID-19?
Singer Billie Eilish is the latest musician to enlist the help of AV technology to produce a live-streamed concert from a production studio.
Leave a Comment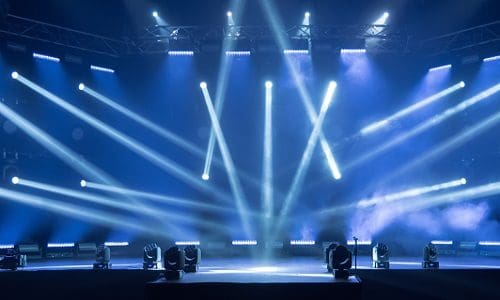 One of the things I personally miss most about my pre-pandemic life is live music, and we're willing to bet that goes for a lot of you folks since many AV pros have a background in music.
Well, you don't have to look very far to figure out how to connect musicians with their fans as the COVID-19 pandemic stretches into yet another month.
Singer Billie Eilish is the latest musician to enlist the help of AV technology to produce a live streamed concert, this time from a studio stage in Los Angeles, according to Rolling Stone.
Eight months into live music's pandemic-mandated shutdown, can livestreams offer anything we haven't already seen? Billie Eilish's "Where Do We Go? The Livestream" concert on Saturday night seemed highly cognizant of that question — serving up a meticulous visual affair, replete with lofty LED screens and extended-reality (XR) effects, that felt determined to recapture weary viewers' attention.
Read Next: JBL Professional VerTec Series Speakers Deliver Sound for BNS Drive-in Concerts
With the feel of a highly produced music video, the show, which charged $30 a ticket, hit on all the strengths of livestreaming. Enormous animated creatures and chimeric landscapes whirled by around Eilish, her brother Finneas, and her drummer Andrew Marshall as they played into multiple roving cameras from a 60-by-24-foot stage; the trio's sparse physical presence made for a striking silhouette to the rapidly shifting scenery, while the occasional close-up quick cut allowed the audience to feel like they were inside the performance itself. On a sidebar, fans had the ability to type into a chatroom and purchase Eilish's merchandise.
According to the publication, Eilish' team worked with Montreal-based creative production team Moment Factory, which the magazine notes has worked with Eilish on in-person concerts in the past. Extended reality company XR studios, Los Angeles-based interactive studio Lili Studios and livestreaming platform Maestro all contributed to Eilish's performance.
It's not just Eilish that is livestreaming her performances for fans across the world. According to the New York Times and other publications, other notable musicians utilizing AV technology include Nora Jones, Post Malone and a host of others.
And, according to a new report from Billboard, about half of music fans think it's important for the industry to offer livestream or virtual concerns.
For AV professionals and integrators in the live performance space or other entertainment verticals, there is an incredible opportunity here.
If you enjoyed this article and want to receive more valuable industry content like this, click here to sign up for our digital newsletters!