SnapAV Acquires Volutone and Its 7 Distribution Sites: Impact on Commercial AV
The latest acquisition by SnapAV of Volutone bolsters its ability to strengthen its presence in the commercial AV distribution market.
Leave a Comment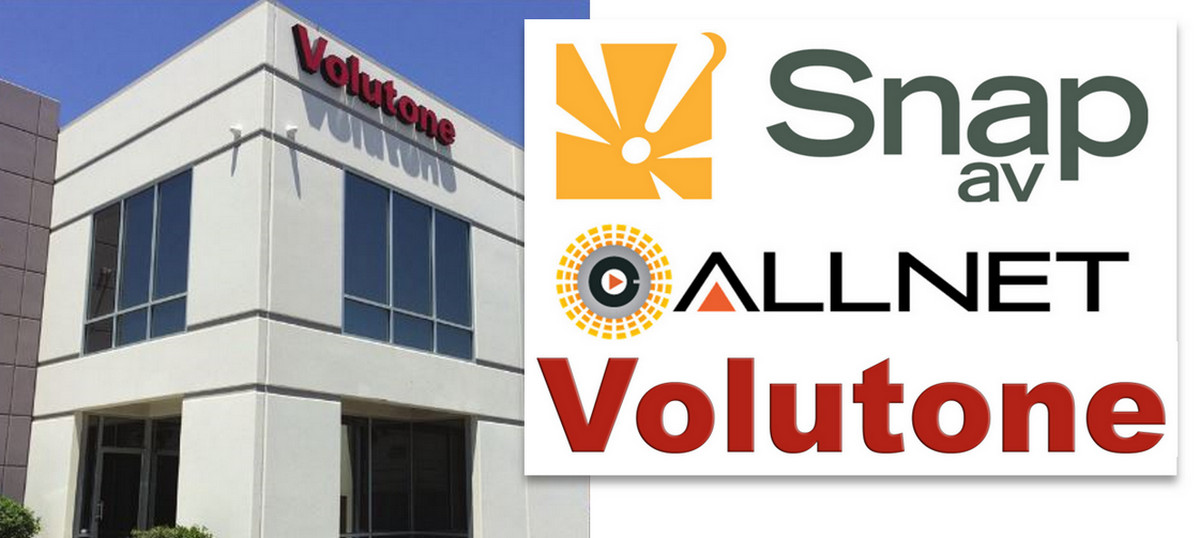 When news broke that distributor and AV products manufacturer SnapAV acquired distributor Volutone and its seven distribution sites, many in the commercial AV market probably didn't think much of it.
However, SnapAV seems to be poised to take a much more commanding role in the distribution and manufacturing landscapes in the commercial AV market. The latest acquisition of Volutone, which adds significant physical presence in terms of distribution centers and comes on the heels of its acquisition of Allnet earlier this year, strengthens its ability to expand its offerings.
SnapAV already serves the commercial AV market with products and distribution and the company has been clear about its intention to build its B2B brand.
From a manufacturing perspective, SnapAV is prolific. Since entering the commercial AV market a little over a decade ago, it has established itself as a leading brand across many residential integration products categories. In sister brand CE Pro's 2018 Brand Leaders coverage, SnapAV appeared in the top five list of audience preferred brands for 23 of the 58 product categories covered.
That being said, it's worth it for commercial AV professionals to take a look at CE Pro's coverage of SnapAV's acquisition of Volutone. Here are some takeaways from founding editor Julie Jacobson's article:
Volutone Is a Big Get (from CE Pro)
SnapAV has acquired Volutone, arguably the largest independent distributor serving home-technology integrators with home-automation, audio, video, security, lighting-controls, networking, surveillance cameras and other low-voltage gear (read press release). Volutone adds seven branch locations – six in Southern California and one in Las Vegas – to SnapAV's four locations in the Midwest. SnapAV picked up the Midwest branches with its acquisition of Allnet earlier this year.
SnapAV Takes Modern Approach to Distribution (from CE Pro)
SnapAV entered the home-tech marketplace more than a decade ago with the strongest e-commerce platform the channel had ever seen. The platform grew to include e-learning and other digital services, as well as a smart-home back-end, OvrC, for remotely monitoring and managing connected devices.
SnapAV's Product Mix Has Evolved
SnapAV started out selling commodities like cables, connectors, furniture and video projection screens, but when the company started offering more advanced systems like OvrC, it became more important to have local resources guiding home technologists into new digital territories – not just OvrC but technologies such as video analytics incorporated into SnapAV's Visualint brand of surveillance systems.
SnapAV Is Building Its Footprint
The company has focused heavily on dealer services through e-training, e-commerce, and remote support, says CEO John Heyman in an interview with CE Pro, "but SnapAV has not been able to act locally like Volutone and Allnet."
"This is the piece that closes the loop for SnapAV," says CEO John Heyman on local distribution services
When Heyman and his cohorts went into the field with Allnet salespeople, they observed strong relationships between Allnet reps and their dealers, both large and small.
"We observed the same thing with Volutone," Heyman says.
"We realized how important well-trained, culturally similar people who bleed dealer success were. … They're not just taking orders."
Volutone and Allnet go above and beyond, Heyman says, by delivering product to jobsites, and taking training on the road. "This is the piece that closes the loop for SnapAV," he says.
While SnapAV has warehouses in Dallas and Fresno, Calif., they're strictly for more efficient shipping to dealers in the region. They don't serve as relationship hubs.
On the other hand, Volutone and Allnet do a large amount of will-call business (70% in Volutone's case), using the opportunity to mingle with dealers, introduce them to new products, and sell more stuff.
SnapAV and Third-Party Vendors
SnapAV provides a number of high-performance products in several categories – networking, AV over IP, surveillance, loudspeakers, home theater, racks and more – that compete with existing Volutone and Allnet lines.
Adam Levy, a co-founder and current EVP, says internal research shows dealers are involved in "virtually every category" SnapAV carries, but "but they don't standardize on brands. Dealers need selection.
How are the competitive brands responding to the new SnapAV ownership?
"Business is accelerating with third-party brands, as well as SnapAV brands," says Allnet principal Wally Whinna. "We're seeing dealers more often, so there's more exposure to all brands."
The more often dealers visit the branch, the more they buy on impulse, and the more they learn about new opportunities.
Whinna says Allnet continues "aggressive training on all brands" including staples like Luxul and Just add Power, which compete with Araknis networking and Binary media-distribution brands, respectively.
SnapAV's powerful marketing and business-development resources boost exposure to all brands, Whinna says, and provide "tools to take Allnet to the next level."
He says response from vendors has been mostly positive, although some have decided to part ways with Allnet, representing about 2 percent of Allnet's business, according to Whinna.
"We gave our word we'd continue with the same strategy," Whinna tells CE Pro. "Being a distributor is about offering choices. We haven't really changed that formula."
Adam Levy, a SnapAV co-founder and current EVP, says internal research shows dealers are involved in "virtually every category" it carries, but "but they don't standardize on brands. Dealers need selection. It would be fiscally irresponsible to try to serve every dealer in the industry with our products."
He says vendors seem to be finding that "having SnapAV at Allnet brings lots of dealers in that otherwise would not be there."
Having said that, the local presence has been a boon for OvrC. Whinna says Allnet spends "a lot of time talking about OvrC." There's a dedicated display in the branches, showing how the platform can be integrated with third-party brands.
As for those third-party brands, SnapAV has no plans to standardize line cards across all distributors. It itself already sells and supports third-party brands through its portal, generating some 5 to 10 percent of company revenues from those brands.
"Our strategy is to become omnichannel – buy anything anywhere, return anything anywhere," Heyman explains, noting that this scenario won't happen anytime soon. "It's a big technological investment."
SnapAV Is Poised for More Growth
SnapAV has money to spend, with the "strongest financial partner in the industry," Heyman says of Hellman & Friedman, the private equity firm that acquired SnapAV in 2017.
With $15 billion in capital, H&F is investing in this industry like no one else, according to Heyman: "It's important for our industry to have that kind of partner."
If you enjoyed this article and want to receive more valuable industry content like this, click here to sign up for our digital newsletters!