Poly Unveils Device Management Service Poly Lens At ISE 2020
Poly unveils Poly Lens, a cloud-based insights and management service designed to help enterprises maximize their communication and collaboration investment.
Leave a Comment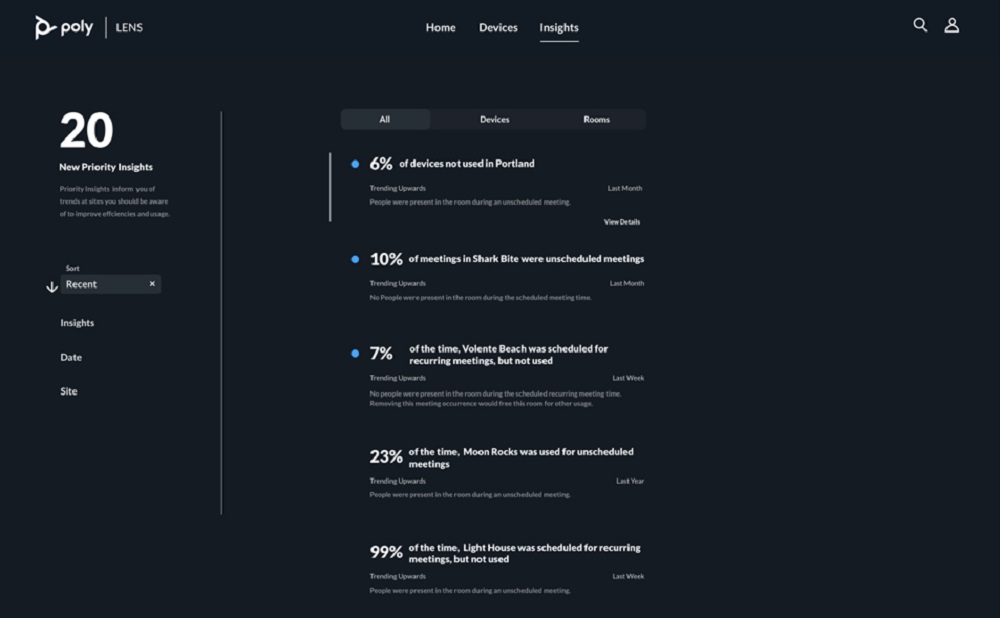 Workplace conferencing solutions manufacturer Poly at ISE 2020 (stands 11-B140 and 11-A150) is showcasing Poly Lens, a new cloud-based insights and management service designed to help enterprises maximize their investment in communication and collaboration tools.
According to the company's announcement, Poly Lens combines management and updating tools with insight into how other Poly devices are being used. The company says this could give greater control and simplicity to IT departments.
The service – which is currently available worldwide as a fully supported commercial preview at no charge – aggregates data about the use, success and failure of workspace technology and gives users an overview that lets them turn that data into action.
Melissa Femejeir, a senior research analyst with IDC, said in a statement that businesses are struggling to keep up with the proliferation of technology and devices needed in the modern digital workforce populated by multiple generations.
"Now more than ever, companies have to optimize shared workspaces and tools to stay competitive. This will continue to fuel the need for intelligent devices that provide data-driven, actionable insights and can be deployed in an easy and scalable way," she said.
See all of our ISE 2020 coverage here
Key features of the new service include:
Device management – Via a modern interface, Poly Lens offers IT managers device onboarding, setting configurations, map-based inventory management and software upgrades to help staff correctly deploy mission-critical solutions.
Intelligent insights – An intelligent news feed provides actionable insights to help maximize usage to help IT managers address important issues. Poly Lens will eventually be able to provide room-based insights.
Cloud-based service – Poly Lens allows customers to migrate between video-as-aservice providers without losing data and insights.
More About Poly Lens
The commercial preview will continue to be updated, and Poly's endpoint management solutions will eventually be converged into one service, according to the company.
Currently, Poly Lens brings management and updating capabilities to the Poly Studio X line of video bars and the Poly G7500 video conferencing system. Poly headsets and phone offerings will also be supported in the future.
In a statement, Beau Wilder, vice president and general manager of infrastructure, cloud and analytics for Poly, said businesses face a blind spot when it comes to how communication and collaboration tools are used.
"Poly Lens provides the next-level of visibility into collaboration spaces and device use without the need to install additional infrastructure," he said.
In addition to Poly Lens, the company is featuring Poly Studio X video bars, Poly Savi 8200 Office and UC Series headsets, Voyager Office Series headsets, Poly Elara 60 Series mobile phone station and Poly G7500.
If you enjoyed this article and want to receive more valuable industry content like this, click here to sign up for our digital newsletters!