8 Ways AV Integrators Can Be Different—And Win New AV Business
Author Mike Michalowicz told AVEC attendees it's more important to highlight your differences than focus on being better than AV business competitors.
Leave a Comment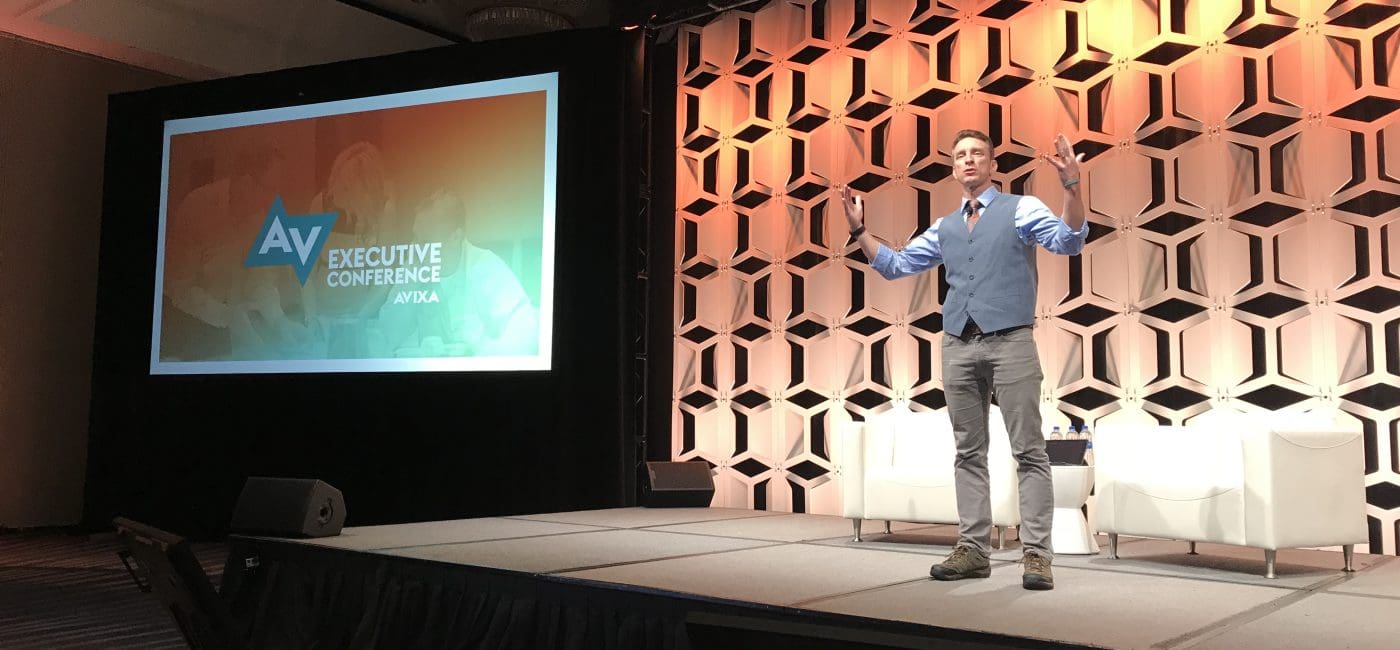 Stop worrying so much about always being better than your AV business competitors. It's much more important, says author and entrepreneur Mike Michalowicz, to be different.
"Better is not better," he told AVIXA AV Executive Conference attendees in his closing keynote address this week in Tampa Bay, Fla. "Different is better. If we try to be better than the competition, we're invisible. If we're different, we stand out."
Four Ways To Be Different
One way to be different is by singling out the person or group you're looking to attract.
That can come by sharing their testimonials about work you've done for them, says Michalowicz, because calling out your satisfied customers' praise of your work guarantees they'll share that praise with others they know.
"The two most attractive words in the English language aren't 'free' and 'sex,'" says Michalowicz. "They're you're first and last names. Leverage the names of your customers and it can lead to new business."
"What you put out there will come back to you, both the positive and the negative," says Michalowicz. "Do unexpected things for your customers and they'll always remember them."
Another way for your AV business to make sure they're remembered for being different is by breaking the label and tweaking what people expect from a particular class or type of business.
"To customers, a circus is a circus," says Michalowicz.
"There's really no difference between Ringling Bros. and the Big Apple Circus. Then Cirque du Soleil came along and people didn't know what it was all about. When we can get prospects asking 'what does that mean,' they can no longer put us in a box and make us a commodity.
"Cirque du Soleil never would have been able to demonstrate that little difference if they hadn't changed the name and had called themselves Circus of the Sun.
"That doesn't mean you call yourself the King of AV. You just need to change the label from saying you're 'world-class' or the 'best in the industry' and the opportunities will skyrocket," he says.
You've heard people tell you about under-promising and over-delivering, but are you bold enough to try it?
Michalowicz says you should set expectations and beat them, regularly.
"Set an expectation and beat it," he says. "The problem is we're setting expectations high and then scrambling to meet them. You don't have to do things better, just different."
Zappos is perhaps the best example of this, delivering shoes in one or two days while telling customers it'll take up to five days. Zappos tells customers they got their shipments more quickly as members of its VIP club, but the truth is it's just standard operating procedure for the company, says Michalowicz.
Four More Ways for Your AV Business to Stand Out
The power of exclusion is another way to drive people to action.
"The primary benefit of platinum status on airlines is being able to sit on that plane longer than everyone else, but everyone who doesn't have platinum status wishes they did," says Michalowicz. "People will do extraordinary things to be part of exclusive clubs.
"As a resource gets depleted, it becomes more desirable. The lack of availability pushes customers to act more quickly," he says, pointing to the "shrimp shuffle" phenomenon that sees party guests hover over a plate of shrimp and cocktail sauce as they see others grab them from the platter.
For some reason, though, no one likes to be first and most people don't like to take the last of a particular resource for fear others will look down on them for taking something they wanted for themselves.
Buyers' defense is another way you can stand out from the crowd.
We all know about buyers' remorse, but buyers' defense helps you justify your purchase to those who might wonder why you bought something.
"The sale after the sale matters more than ever before," says Michalowicz. "It can help your customers to defend themselves from the inevitable assault."
In this age of social media, social proof is growing in major ways.
Rather than burying testimonials somewhere deep in your AV business website, put them near where you post your phone number or above where you ask prospects to share their contact information with you, he says.
Finally, a secret just isn't what it used to be.
When Tiger Woods tried to get people to stop paying attention to his extra-marital affairs by lying about them, many found they craved more information than ever.
When David Letterman's scandal broke on the same weekend, he addressed it on his late-night talk show and most people forgot about it shortly afterward.
"Secrets invoke curiosity and spread like wildfire," says Michalowicz.
If you enjoyed this article and want to receive more valuable industry content like this, click here to sign up for our digital newsletters!