SPAM Museum Features Interactive AV
Electrosonic works with Hormel to create interactive exhibits at 14,000-square-foot Minnesota museum dedicated to the world's favorite canned pork product.
Photos & Slideshow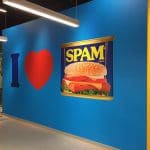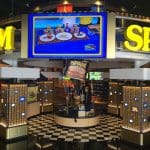 ---
Some people like SPAM. And some people like SPAM a lot!
For those people who are true SPAM connoisseurs, a new 14,000-square-foot interactive museum in Austin, Minn., dedicated to the world's favorite canned pork product is worth the trip, especially after waiting two years to get their SPAM fix.
SLIDESHOW: Inside the SPAM Museum
The new tourist trap replaces the original SPAM Museum at the Hormel Foods headquarters that closed about two years ago. The new space "explores the SPAM brand's global popularity, its place in regional recipes, its history with the U.S. military and the many innovative things people have made from the famous blue cans," according to an announcement from Electrosonic about their involvement in the project.
Electrosonic "worked closely with fabricator Universal Services Associates, Inc. (USA) to provide interactive AV support for the museum's fun and informative exhibits," according to their press release.
"We were able to work with USA early on and deliver examples of each type of display to their Pennsylvania headquarters so they could mock up the exhibits off-site," said Electrosonic project manager Rick Nelson. "This process greatly sped up the install at the new museum."
The Perfect Place (and Tech) for the Spam Fan
Visitors begin their tour of the SPAM Museum in a circular area where columns of SPAM product cans form a colonnade around Apple iPad Air 2s playing SPAM brand quizzes, a 95-inch Samsung display showing TV clips and multiple interactive counters comprised of Planar touchscreens offering recipes ready to share.
Corporate videos are displayed on 42- and 46-inch NEC LCD monitors in portrait and landscape modes, with directional Panphonics sound shower speakers containing the sound in the busy area. Visitors can learn the Hormel family history on a BrightSign media player.
International exhibits feature numerous Planar touchscreens with country-specific video content: The UK offers a Monty Python-inspired Spamalot game while South Korea heats up a wok of sizzling SPAM products activated by a Museum Technology presence detector.
For those who are unfamiliar with the Monty Python's obsession with SPAM, here's a taste:
Visitors can also use two Planar touchscreens to decorate a Philippine Jeepney bus and email their designs home. An interactive global map, on a 70-inch ELO display, showcases all the countries that embrace SPAM products in their diets.
A World War II section examines the key role that SPAM products played in keeping GIs well-fed. A wartime newsreel plays on a Planar 24-inch display housed in a wooden crate. A proximity sensor or a push-button trigger the SPAM-ville story inside a tent where a Panasonic laser projector, housed within an army tent, projects portrait-video of a soldier walking to the entry of the open tent to tell his story of SPAM products while overseas.
The SPAM Ballet video, which was a popular feature in the original museum, documents the production process from the assembly line to shipping. It features three Samsung 16×9 LED screens side by side fed by BrightSign media players. The soundtrack is synched to the "CanCan" dance score and played over JBL Control 25 speakers.
Read Next: London Zoo Puts Guests in Animals' World with Immersive Audio Install
Finally, the giant Hormel Foods Brands Wall and its interactive kiosks enable visitors to touch any product and watch a commercial for it.
Electrosonic supplied the museum's AMX 3200 control system and AMX MSD 701L touch panel to start up and shut down exhibits and manage audio levels as crowds increase during weekends.
Experi-Tech custom software drives the interactive computer content and iPad apps, which are updated over WiFi in the museum. Remote content updates are handled via TeamViewer on an administration laptop.
BrightSign media players and CPUs in the control room use Adderlink and Kramer KVM extenders to transmit signals to the displays on the floor. Electrosonic also supplied the Dell Optiplex 9020 small form-factor computers throughout the museum.
If you enjoyed this article and want to receive more valuable industry content like this, click here to sign up for our digital newsletters!