An Integrator's Top 10 Takeaways from Zoomtopia
DGI Communications' Power of Zoom highlights the key takeaways from Zoomtopia and how integrators can leverage the all-in-one Zoom platform.
Leave a Comment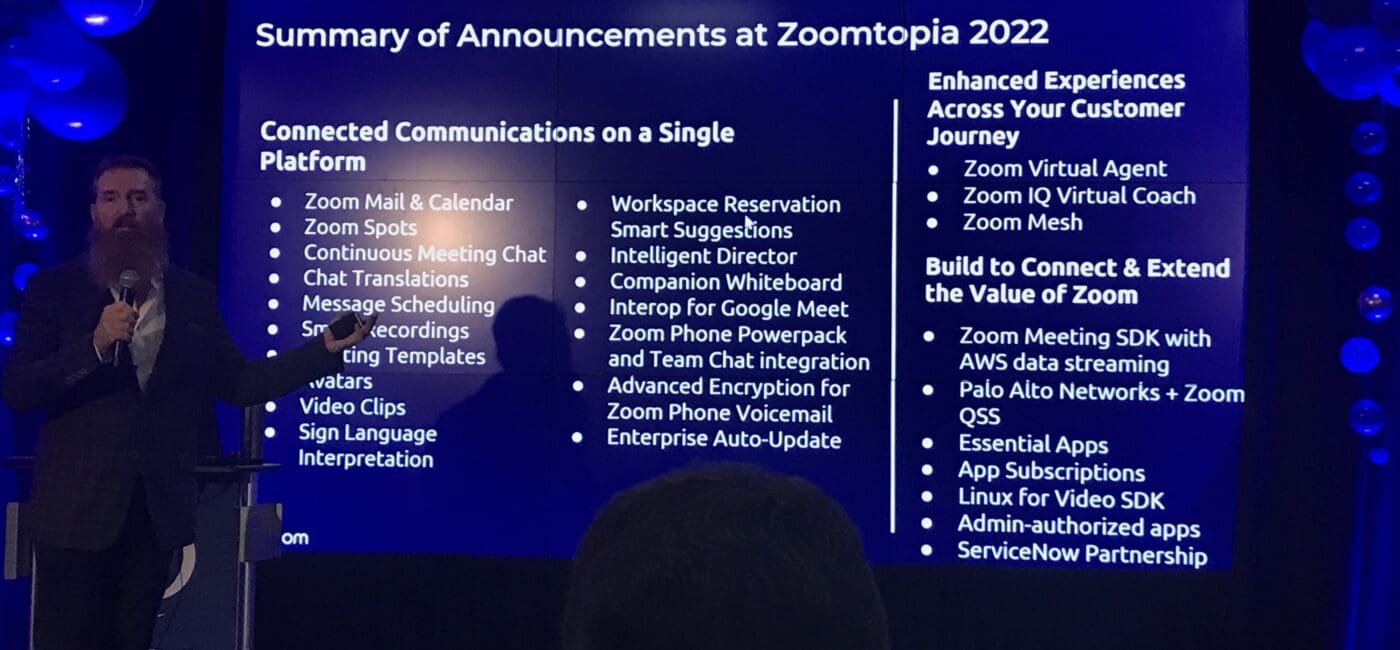 DGI Communications' Power of Zoom event, held at its North Billerica, Mass. headquarters, showcased there's a lot more to Zoom than just meetings. The videoconferencing giant has released a slew of new all-in-one platform features that systems integrators can leverage for clients, and perhaps even their own business.
DGI Communications, a building systems design and integration company operating since 1994, does business under two distinct divisions: DGI Invisuals and DGI Technologies. Its print side is known for its retail graphics and displays, large-format prints and vehicle wraps. By contrast, the tech side focuses on videoconferencing, control systems and design. The company also focuses on experiential design, utilizing ModusVR to design themed/branded spaces.
About 35 other audiovisual industry manufacturers were onsite at the Power of Zoom event to display their latest Zoom certified devices and workplace solutions. The event took place on November 16.
The Zoom platform keeps on getting better and more unified, says Mike Walsh, CEO of DGI Communications. Walsh attended Zoomtopia 2022 in person and discussed his top 10 takeaways from the event:
#10) Zoom Apps & Marketplace
With Zoom's latest apps and marketplace, users can find apps that enhance their Zoom experience and workflows. App developers have more freedom to write an app for anything. For example, when it comes to digital signage, in years prior, the developer community had to write an app specific for digital signage. Now, if the client wanted a live feed of panda bears being born, there's a developer that can do that. "The imagination is now the limitation," says Walsh.
#9) Zoom Rooms Native Control
There are a lot of ways to control rooms, and, as integrators know, intricate rooms require very robust control systems. Zoom's base native control app is not an API, and, therefore, Walsh says, there's an incredible amount that users can do.
#8) Zoom Spots
How do we bring back those water-cooler conversations? The Zoom Spots solution is meant to replace those in-person conversations. Users are physically separate, but, with Zoom Spots, they can nonetheless get together to casually chat with colleagues. Zoom's hoping to bring that organic community experience into the digital world with Zoom Spots.
#7) Intelligent Director
Intelligent Director calls to mind Zoom's Smart Galley feature, where hardware and AI are used to create individual video feeds of in-room participants, giving remote participants a clearer view of their in-room counterparts. Intelligent Director combines similar features but puts them "on steroids," Eric Truax, channel solutions engineer at Zoom, says. "Intelligent Director is going to allow multiple camera inputs with a decision-making process to say, 'What's the most optimal view of this person? Where can I see the function of the face? Where can I see possibly the reading lips to be able to determine language and things like that?'"
#6) Combined Chat
If you've ever started a chat during a Zoom meeting only to leave the meeting and find that messages in the chat have disappeared, Zoom has solved that problem by combining in-meeting and team chat into one platform.
#5) Zoom Mail and Calendar
Zoom's desktop applications are growing, coming to include cloud-based apps for mail and calendar capabilities. Different modalities are coming together under one interface. And the time is certainly opportune. After all, email applications are trending at a five-year compound annual growth rate (CAGR) of 12.1%, and they're projected to be a $11.3 billion market by 2025, according to IDC.
"Email is a personal silo and cannot be leveraged the same way as centralized, collaborative assets. This is not new, but is becoming a challenge to the market," Michael Dury, channel solutions engineer at Zoom, says. He advises to watch for challenges to these personal silos. Microsoft and Google are the top vendors in the market.
Email revenue grew in 2020 as enterprises determined more people needed to be connected to the corporate email system. A new array of vendors is appearing that leverage the inbox but that do what e-mail was not designed to do: That is, handle large volumes of email and collaboration. Artificial intelligence/machine learning integrations to email are extending intelligence to staying inside one client.
#4) Conversation Intelligence
With AI growing at a rapid pace, Zoom's conversation intelligence solution will be able to track how many filler words, such as "umm," "you know" and "like," someone says in a meeting. It is not isolated to vocal patterns; it also incorporates other modes of communication within the Zoom platform.
"One of the things I absolutely love about this is more and more of us are presenting, and this is great," Truax says. "[But], many times, the skill set of having technical knowledge is not necessarily in queue with the skill set of presenting. Being a subject matter expert is not always synonymous with being able to tell people."
Truax continues, "This is a great tool people can use themselves, individually, to get better at speaking…to feel a little bit more comfortable talking about a subject that they happen to know a lot about. This is a great tool that you can use on your own at your own pace." Walsh adds, "If you're a sales leader [or] sales manager, the metadata can be carried right into your CRM platform to watch success."
#3) Contact Center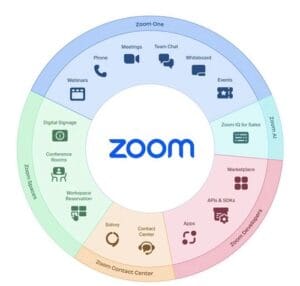 We've all had good and bad experiences when it comes to virtual agents, such as re-booking cancelled flights. The virtual agent can quickly grab the customer's information, as opposed to the customer talking to someone in person and starting all over again. Attention spans have dwindled. Customers want to engage quickly and accurately.
"What used to take a tremendous amount of time, money and effort to accomplish poorly, we have finally, technology community-wide, gotten to a point where we can do this much better, simpler [and] faster," Truax declares. "The idea of a pop bot out of chat…we've been doing that for a while. [We've been doing that] to the point where we're all kind of tired of it. But we've optimized it, where the level of that interaction is customized to the interaction itself." Truax adds, "[Virtual agents don't] have to be a hindrance. It's improving the communication."
#2) Whiteboard
Zoom's whiteboard functions have tremendously evolved, says Walsh. Truax adds, "We've taken this and made it its own product. Not an add-on to rooms…not as something you do in a physical space only. We've taken the physical space, the virtual space, the web space, the client space and the mobile space, [and] we've put them into an all-in-one stylus experience. You can create a whiteboard for yourself and then share to whatever group you want to, whether virtual or physical. You can go into one room and have a whiteboard set up where you can sign into your own whiteboard to use, so that can be shared; all that information is retained. We're talking about group Kanban boards and templates assigned to those different whiteboards. Zoom's whiteboards are now becoming more of an organizational tool."
#1) Workplace Reservation
With Zoom's latest workplace reservation users can see a completely customizable layout of their facility, campus and floors/wings. Users can book workspaces from an app, email, virtual kiosk or from the front of the room. Zoom offers many different ways for users to come into the office to pick a room, it will tell users the size of the room and how many people it can accommodate. Users can see what days and times are available, and it can even some suggest workplaces based on user patterns. Users can book a time slot, where they then can authenticate with a QR code when arriving on-site. Once authenticated, users have their own personal zoom rooms with an extended desktop. Workplace reservations are a prime opportunity for integrators to sell to customers.
Zoom and the Problem-Solving Journey
Zoom is making great strides to meet people where they are. Zoom existed before the pandemic, Truax reminds us, "and it was a great product before that." He adds, "As people are starting to come back into a workspace, [things are] different now. We want to meet you where you're at. We want to be there with you as part of that journey, solving problems."
If you enjoyed this article and want to receive more valuable industry content like this, click here to sign up for our digital newsletters!