Crestron, Microsoft Release Teams Room Scheduling Panels
Crestron's new 70 Series Scheduling Panels integrated with Microsoft Teams give employees and IT an overview of the meeting room landscape.
Leave a Comment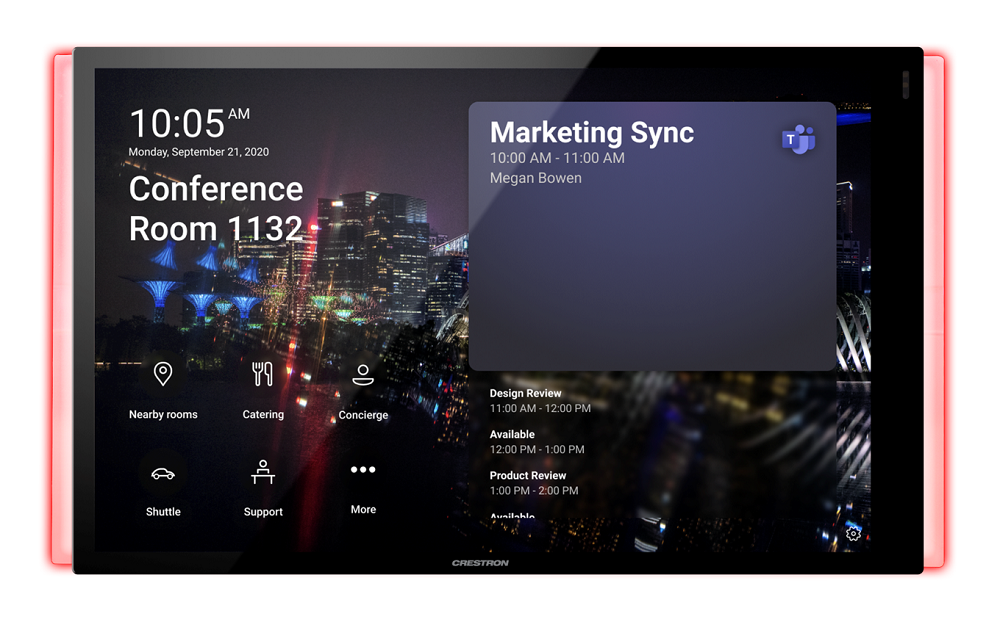 Crestron, in collaboration with Microsoft, has released a new series of scheduling panels integrated with Microsoft Teams designed to help organizations reimagine the workplace and manage meeting spaces more efficiently.
The new Crestron 70 Series Scheduling Panels, built on the company's recently launched 70 Series products, provide in-office employees the ability to manage and monitor room availability and capacity using software and other tools they already know, like Microsoft Exchange and the Teams Admin Center.
The panels are available in black and white finishes and come in sizes of 7 inches and 10 inches, along with several mounting options for drywall, masonry, glass and other surfaces.
According to Crestron, the panels provide a native Teams experience for employees that return to the office and include a comprehensive, real-time overview of reach room's status.
The 70 Series Scheduling Panels integrated with Microsoft Teams provides data and analytics on occupancy, availability, cleanliness and more on the panels coupled with Crestron hardware for any bookable spaces, helping organizations adhere to safety protocols during the COVID-19 pandemic.
In addition to direct integration with Teams, the panels also integrate seamlessly with more than 15 scheduling apps to optimize the use of meeting spaces and customize experiences through integration of first and third-party apps.
The panels, designed to be mounted outside a meeting room and hardwired with Power-over-Ethernet, display data from inside the room to people approaching the room to avoid meeting disruptions.
Read Next: Microsoft Releases Teams Device-as-a-Service Program
When integrated in in-room occupancy sensors, employees can see when a room is at capacity or when the space becomes available. Employees can even locate an available room with the "Nearby Rooms" feature if their desired room is in use.
The panels also feature proximity sensors that wake as someone approaches, revealing the user interface. Panels also include USB 2.0 ports and add-on capabilities like an optional RFID indicator that controls badge access to rooms to support contact tracing.
Customers can purchase a single hardware solution from Crestron and can also upgrade for future solutions and capabilities without having to replace or purchase new hardware, according to Crestron.
Support staff can configure the panels with new applications and integrations via firmware updates, and IT admins can deploy and manage the panels remotely through the Teams Admin Center augmented by the onboard Crestron ZiO Cloud platform.
"In the reconfigured workplace, the journey to the room is just as important as the room itself, particularly as we face challenges in re-opening physical spaces post-pandemic," said Andrew Gross, senior director of UC Enterprise at Crestron, in a statement.
"Our collaboration with Microsoft represents a step forward in the room scheduling device category, an important component of supporting and building the workplace of the future. The Crestron 70 Series Scheduling Panels offer more than just the ability to book meetings – organizations can now better understand room utilization and improve how they manage their spaces which keeps organizations and their employees safe and informed."
Commercial Integrator needs YOUR help!
Will you take just two minutes to fill out this end-of-year business survey? Doing so will help us complete our annual State of the Industry report — a valuable recap and forecast for the business year to come. It only takes a moment.
Albert Kooiman, director of Microsoft Teams devices partner engineering and certification at Microsoft, said in a statement that the panels unlock the full Microsoft Teams Room experience.
"Together with Crestron, we aim to provide a way to monitor and manage space usage, enforce company policies, and plan for future technology investments, all based on Microsoft Teams and Microsoft 365," Kooiman said.