MSolutions Announces New Innovations for MS-TestPro & Other Products at ISE
MSolutions will display innovations for its portable MS-TestPro AV test device and also feature a new range of PTZ cameras at ISE 2022.
Leave a Comment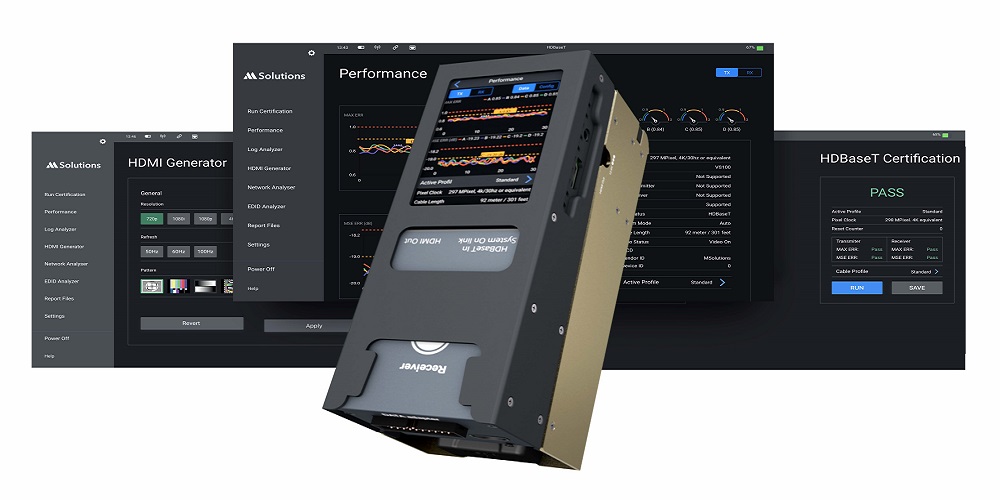 MSolutions, a supplier of AV test devices and collaboration solutions will bring its wide scope of AV solutions to ISE 2022. The solutions will bring greater focus to the collaboration room. The company will display its portable, all-in-one MS-TestPro AV test device and will also unveil a range of PTZ cameras and signal extenders built for meeting and learning spaces of all sizes.
MSolutions will highlight its MS-TestPro (MS104B), while also showcasing other innovations and previewing how MSolutions plans to evolve its portfolio to serve its fastest-growing verticals.
We are problem-solvers focused on helping our customers test the integrity of video and audio signals, as well AV and IP cabling and infrastructure," Eliran Toren, CEO, MSolutions, says. "That means keeping up with the AV industry's latest ultra-HD formats and specifications, as well as building new tools into our MS104B tester that helps field technicians stay on the cutting edge."
He adds that the MS-TestPro offers technicians all they need to quickly test and certify AV systems that serve any kind of business or residential space up to 8K 48Gbps. "Our experience working with high-speed, high-bandwidth infrastructure also gives us a unique perspective on how to efficiently navigate signal management and connectivity requirements in today's IT collaboration rooms," Toren remarks.
MSolutions MS-TestPro and Other Solutions at ISE 2022
This year's ISE will mark the European debut of two industry-first AV test innovations.
First, the MS-TestPro now offers 8K 48Gbps qualification for HDMI cables. Field technicians can run full compatibility and perform sweep tests with near-immediate results. This is done by adding MSolutions HCT (HDMI Cable Tester) module to the tester and verifying if the connected HDMI cables can support ultra-high-speed transfer.
Related: MSolutions Brings HDMI 8K and HDBaseT Spec 3.0 Test To InfoComm 2021
Additionally, MS-TestPro users can test ultra-high-speed uncompressed infrastructure and confirm HDBaseT Spec 3.0 compatibility by adding MSolutions' DCR (DC Resistance) module to the tester. The DCR module offers a detailed analysis of the results, along with a simple pass/fail test to quickly confirm Spec 3.0 compliance of the AV infrastructure, which includes long-distance, high-bandwidth (18Gbps) distribution of uncompressed video and audio. According to MSolutions, it remains the only company that qualifies HDMI 8K @60Hz 4:4:4 signal integrity on the physical layer using a handheld device.
MSolutions will also unveil a new 4K camera with a built-in microphone that allows users to enjoy greater video and audio quality. Furthermore, it will demonstrate how the camera can be used with its new MS-6U41 USB Extender set to eliminate signal degradation. The MS-6U41 was introduced in March, and it will debut publicly at ISE. According to MSolutions, it is one of the first extenders to incorporate USB-C support for high-bandwidth signal transport.
MSolutions will also announce a new strategic partnership as the show approaches. This unveils a new business model for its MS-TestPro device. The partnership will also provide new and existing customers with several new options for usage and purchasing.
MSolutions will exhibit in booth 2P200. ISE 2022 will take place from May 10-13, 2022, in Barcelona, Spain.
If you enjoyed this article and want to receive more valuable industry content like this, click here to sign up for our digital newsletters!