Microsoft Adds Closed Captions for PowerPoint Live in Microsoft Teams
With the new feature, meeting attendees now have the option to turn on closed captions for any video that includes a closed-captions file.
Leave a Comment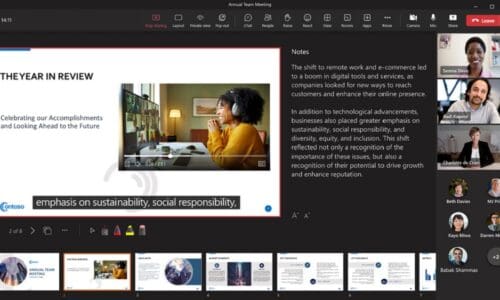 Microsoft has enabled closed captions in PowerPoint Live, a new feature in Microsoft Teams meetings that aims to help those who are deaf or hard of hearing. It also helps those who have difficulty processing auditory information, have a language barrier or who are simply joining the meeting from a loud environment, to better understand the auditory content. Meeting attendees will thus have the option to turn on closed captions for any video that includes a closed-captions file.
PowerPoint users looking to create accessible presentations can now easily add closed captions to any embedded PowerPoint video, says Microsoft. They can do so directly from within PowerPoint for Windows and macOS.
Adding Closed Captions
Select the video and select Insert Captions from the Playback Ribbon
In the Insert Captions dialog box, select the WebVTT file or files that should be included
Select Insert to add closed captions in PowerPoint
When the user shares the PowerPoint presentation using PowerPoint Live in a Microsoft Teams meeting, the closed captions option will be available for viewers.
Also Read: Aquarium of the Pacific Turns to Epson for Enhanced Accessibility
Using the Feature
In PowerPoint Live, click on the closed-captions button on the video player
Select the preferred language from the dropdown menu
Closed captions are now turned on
The company adds that when no closed captions are available for a video, the closed captions button will be unavailable for selection.
Once turned on, the closed captions will appear at the bottom of the slide for only the individual attendee. It thus empowers each attendee to choose the closed-captions setting that's best for them. Moreover, they can do so without distracting other attendees who may prefer to have closed captions turned off. Closed captions make PowerPoint presentations more accessible and benefit everyone who watches videos. Microsoft notes that it is especially beneficial to those watching videos in their non-native language, people learning to read and individuals who are deaf or hard of hearing.
If you enjoyed this article and want to receive more valuable industry content like this, click here to sign up for our digital newsletters!