AVer Unveils CAM570 PTZ Camera Powered by Qualcomm SoC
AVer's latest CAM570 is a 4k dual-lens videoconferencing camera with audio tracking capabilities powered by Qualcomm.
Leave a Comment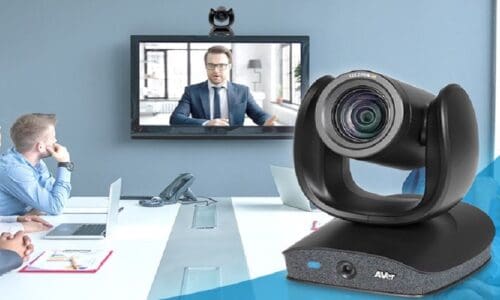 Collaboration peripherals manufacturer AVer Information, Inc., USA, is releasing the CAM570, a 4k dual-lens videoconferencing camera with audio tracking capabilities powered by Qualcomm.
According to the Fremont, Calif.-based company, the CAM570 is designed for medium and large meeting rooms and features three pairs of built-in audio sensors that detect human voices up to 33-feet away with audio tracking functionality.
Unveiled at CES 2023, the PTZ camera features a 4K dual-lens with 36X total zoom and an intelligent lens with a 95-degree field-of-view. AVer's beamforming audio technology guides the camera to focus on the most relevant activity in a meeting while eliminating background noise with intelligent voice detection.
The camera, which is certified for Zoom and compatible with other conferencing platforms,­­­­­ ­­­­­ includes three pairs of built-in voice sensors with beamforming technology and two 4K lenses to track speakers.
The CAM570 is powered by the Qualcomm QCS610 SoC, a high performance IoT system-on-chip (SoC) designed to deliver premium features for building advanced smart camera and IoT use cases encompassing machine learning, edge computing, image quality, voice integration, and integrated wireless connectivity cost effectively, the company says.
Other features include the company's dynamic detection and smart gallery features that automatically adjust the camera angle and zoom to capture meeting participants while merging closeups of everyone in the room to enable meeting equity.
"AVer continues to address the challenges of today's hybrid workplaces with reliable, feature-rich solutions that better connect participants who can't physically be in the meeting room," says Carl Harvell, director of product marketing for AVer USA. "AVer's CAM570 is designed to meet those challenges. The CAM570 features intelligent AI technology to empower seamless connectivity and collaboration equity for the future of hybrid workplaces. Qualcomm Technologies' cutting edge SoC technology coupled with a comprehensive suite of features and support for the collaboration segment was instrumental in building a great product"
This article originally appeared on Commerical Integrator's sister-site MyTechDecisions.com.
If you enjoyed this article and want to receive more valuable industry content like this, click here to sign up for our digital newsletters!