AVer: Three Cameras Now Certified for Microsoft Teams Rooms
AVer cameras now certified with Microsoft Teams include the VB130 USB video bar, the CAM520 Pro2 camera and the CAM130 4K conference camera.
Leave a Comment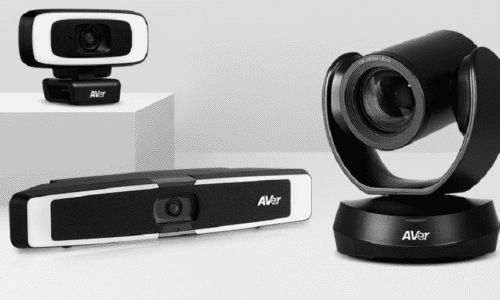 AVer has added three videoconferencing cameras to its portfolio of Microsoft Teams-certified devices that strengthens the collaboration tech provider's relationship with Microsoft.
The AVer cameras, now certified with Microsoft Teams, include the VB130 enterprise-grade USB video bar, the CAM520 Pro2 enterprise-grade conference camera and the CAM130 4K conference camera. All are now optimized to work seamlessly with Microsoft Teams Rooms systems.
According to Microsoft's database of Teams-certified cameras, the AVer devices join 30 other Teams-certified cameras from prominent manufacturers like Logitech, Poly, Lenovo, Bose and others.
AVer says its videoconferencing cameras are used by enterprises, universities, K-12 classrooms and government agencies to provide solutions for remote work, distance learning and more. The company says it has a roadmap of additional cameras for Teams Rooms to also gain Teams certification.
 The Collaboration Space Podcast: Power Your Hybrid Workplace with Microsoft Teams Rooms
All three devices were previously certified for Microsoft Teams as a Microsoft Teams Room peripheral, with the CAM130 and CAM520 Pro2 being certified in August and the VB130 certified in November.
"Our enterprise customers are standardizing on Microsoft Teams and are demanding video devices that work seamlessly with it," Carl Harvell, director of product marketing for AVer Information Inc., Americas, says. "I am excited to let our customers know that AVer is actively working to add more innovative, cameras Certified for Microsoft Teams to our current lineup in 2022 and beyond."
Albert Kooiman, senior director of Microsoft Teams devices partner engineering and certification at Microsoft, says the company values hardware partners like AVer that commit to certifying their devices for Microsoft Teams.
"Certified devices ensure optimal performance with Microsoft Teams Rooms, from huddle spaces, conference rooms to extra-large spaces like corporate training rooms," Kooiman adds.
For a complete list of Microsoft Teams Rooms-certified devices, visit Microsoft's catalog here.
To read previous coverage on AVer, check out our site archives.
This article originally appeared on our sister site My TechDecisions.