BenQ Debuts Zoom-Certified DVY32 Smart 4K Ultra-HD Conference Camera
BenQ's DVY32 4K ultra-HD video camera ensures meeting participants look and sound their best with wide angle lens and noise-suppressing mics.
Leave a Comment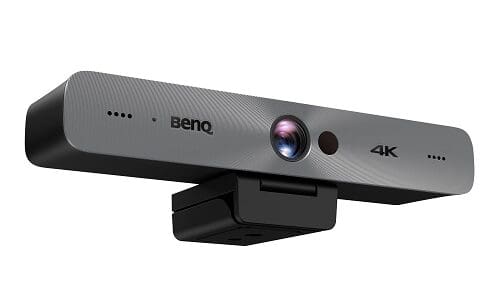 BenQ, the Costa Mesa, Calif.-based provider of visual display solutions, launched the DVY32 smart 4K ultra-HD video camera, the latest video camera in its DVY family. The DVY32 smart 4K ultra-HD video camera is compatible with all videoconferencing platforms and includes the following: Zoom certification, BenQ's color performance technology coupled with a Sony 4K image sensor, 120-degree-wide field of view with 5x digital zoom, AI-powered auto framing, two omnidirectional microphones, and H.265 video encoding for streaming with less bandwidth.
"A quick Google search of the 4K ultra-HD video conference cameras available on the market reveals solutions that are either incredibly cost prohibitive for organizations needing cameras in multiple meeting rooms or lack professional-grade features that define a good meeting experience," Bob Wudeck, senior director of business development at BenQ America Corp., says. "The DVY32 delivers the best video and audio for less than $500, allowing organizations to outfit numerous rooms without breaking the bank or compromising on quality."
According to BenQ, DVY32 ensures the following:
Calls Look Their Best
The DVY32 produces vivid 4K ultra-HD video with a 120-degree field of view that lets those on the far end see everyone clearly and in rich detail, making it an ideal video conference camera for meetings as well as online demos and product launches. BenQ's low light performance makes subjects stand out from the dark. With digital pan, tilt, and zoom, users can keep the audience focused on what's important while the AI-powered auto framing adjusts the shot so that everyone is always on screen. In addition, the smart video camera automatically corrects distortion to stream accurate videos. It also utilizes the latest compression standard, H.265, which requires less bandwidth and ensures smooth streaming even with suboptimal network conditions.
Calls Sound Their Best
The best audio quality occurs when meetings are face-to-face, and that's the standard that the DVY32 achieves, says the company. The DVY32 is equipped with two omnidirectional microphones that pick up audio from 26 feet away and minimize distracting background noise. The noise-suppressing microphones tune out background noise, so people don't miss any information.
Great Meetings From Any Platform, Using Any Display
The DVY32 passes Zoom standards for optimal videoconferencing, but it's also compatible with all video conferencing apps, including TeamViewer Meeting. Its flexible mounting options make it ideal for any computer or smart display. Just mount it, connect it, and start calls right away. For greater flexibility, it can also be put on a table or wall mount.