Check Out These New Microsoft Teams Rooms Features
Microsoft is making several improvements to the Teams Rooms experience designed to help end customers collaborate remotely.
Leave a Comment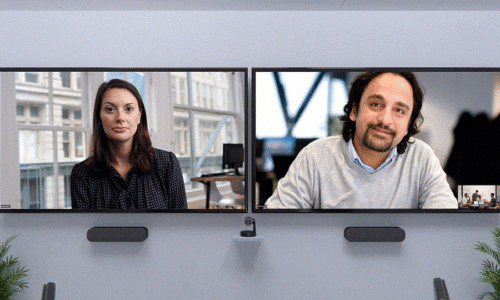 Microsoft is making several improvements to the Teams Rooms experience designed to help end customers collaborate together, regardless of whether employees are in the office or working remotely.
The new features include visual enhancements, AI-powered camera and audio technologies, a new Teams Rooms on Surface Hub experience and whiteboarding capabilities, said Jared Spataro, the corporate vice president for Microsoft 365, in a blog earlier this month.
Here are some new meeting room-specific features we thought are relevant to the AV integration industry:
New video layouts
When content isn't being shared, Teams Rooms will expand screen real estate using new video layouts that disperse the video gallery across multiple displays to help establish remote participant sin the room. Microsoft is also bringing some desktop features to Teams Rooms this summer, including live reactions, spotlight, the ability to pin multiple video streams and chat bubbles.
Microsoft is also introducing a layout called front row that moves the video gallery to the bottom of the screen so in-room participants can see remote colleagues face to face across a horizontal plane.
Read Next: Check Out Microsoft's Vision For The Future Of Teams Rooms
AI-powered cameras and audio
Microsoft and hardware partners Jabra, Logitech, Poly and Neat are using advanced AI-powered camera technologies to bring new video views for hybrid meetings that help ensure everyone in the physical meeting room is seen more clearly.
Check out Microsoft's Tech Community blog for more specs on hardware from those companies.
The company is thinking in similar terms for audio with intelligent speakers from EPOS and Yealink that use Microsoft's voice recognition technology to attribute comments to the meeting room speaker in the transcript. After a quick voice enrollment in Teams, speakers are recognized automatically, and biometric enrollment information is securely stored and manageable in the Office 365 Cloud, according to the company.
New Surface Hub experience
Spataro also announced a new Teams Rooms experience on the Surface Hub, Microsoft's integrated Windows 10 collaboration display, that brings desktop controls and features to the device. These include a modernized meeting stage, Together Mode scenes and PowerPoint Live.
This fall, the Microsoft Whiteboard experience will also be available on the Surface Hub.
Read Spataro's blog and Microsoft's Tech Community blog for more information on these features.