Poly's New Personal Conferencing Devices Underscore The Hybrid Work Trend
Poly's new family of personal conferencing devices for remote workers suggests that integrators need to support customers' hybrid workforce.
Leave a Comment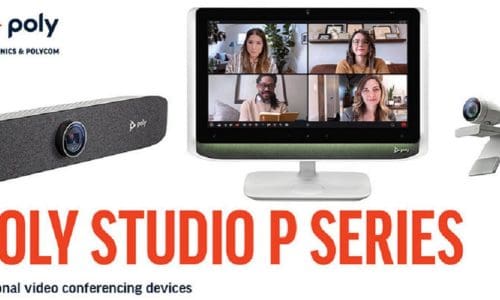 Hardware providers are finding success supporting remote and hybrid with new tools tailormade to support a videoconferencing user who is joining virtual meetings from their home, office or anywhere in the world. It's now time for AV integrators to offer solutions and packages to customers that do the same.
The most recent example of this is Poly's new Studio P Series, which includes a webcam, video bar and meeting display that boast professional-grade video and audio quality similar to what pro AV integrators install in conference rooms in their customers' offices.
According to the company, the Studio P5 Kits offer an out-of-the-box experience that lets users bundle the Studio P5 camera with some of the company's headsets or its fairly new Poly Sync speakerphone family. The company says these solutions can be combined with the Poly Lens Desktop App and Poly+ subscription service to help manage devices for remote workers.
The Studio P5 Webcam ($129) is a personal webcam with camera optics designed for videoconferencing. It features 1080p resolution, 4x digital zoom, a built-in privacy shutter, directional microphone and integrated USB connectivity for headsets.
The Studio P15 Personal Video Bar ($599) comes with 4K clarity, automatic camera framing, integrated speaker and microphone array with NoiseBlockAI technology that blocks outside noise during video calls.
The Studio P21 Personal Meeting Display ($815) is a videoconferencing display that includes a 21-inch display, camera, and audio solutions. USB connectivity allows the display to work with any video app running on a PC or Mac.
Poly's new family of products to help support remote work comes after several other companies have done the same, including Crestron, DTEN, Logitech, Yamaha, Huddly, Lenovo, Yealink and many others.
These devices include webcams, headsets, speakerphones and conferencing displays designed to meet the needs of the newly nomadic workforce.
Read Next: Poly, IDC: Hybrid Work Will Require More Endpoint Tech Investment
It's clear that remote work has staying power, given how seamless many companies are operating under these circumstances. That will give way to a hybrid working future in which some employees return to the office and some remain at home, but with the flexibility for those two groups of workers to switch places on any given day.
To make that new reality work, organizations will need AV integrators to provide them with robust conferencing solutions – for both the remote workforce and employees in the office.
Integrators – if they haven't already – need to start thinking about how they plan to support both the remote and on-site workers for their companies.
A recent report from IDC suggests that by 2023, 75% of the G2000 will make a commitment to providing technical parity to a workforce designed to be hybrid.
That means ensuring a consistent user experience regardless of the user's location or preferred device.
"Those people sitting in a conference room should have the same advantages (and disadvantages) as those at home," IDC says in a blog.
It's past time to start thinking about how you can tap into the rise of home conferencing solutions and add that value to your conference room sales.