Xilica, Sennheiser Add New Room Kits for Conferencing & Collaboration
Xilica x Sennheiser Room Kits will feature Sennheiser's ceiling microphones for scaling audio in small-to-large collaboration spaces.
Leave a Comment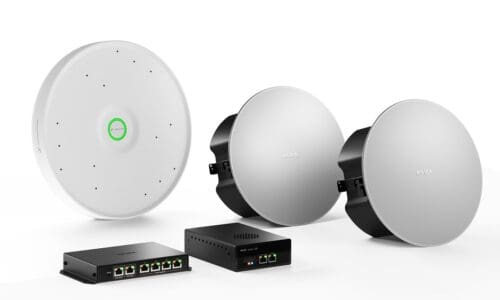 Xilica and Sennheiser launched a new IT-centric audio bundle that allows vendors to span the full breadth of collaboration space with the introduction of the Xilica x Sennheiser Small Room Kit. Following from the popular Xilica x Sennheiser Medium Room Kit and Large Room Kit, both featuring Xilica audio systems with a Sennheiser TeamConnect Ceiling 2 beamforming microphone array, the latest addition includes the newly released Sennheiser TeamConnect Ceiling Medium (TCCM), announced to the market at Integrated Systems Europe (ISE) 2023.
Available to view on Xilica's stand at ISE 2023 (#2-Q400), the new Small Room Kit provides the pre-designed room audio system for smaller spaces: meeting rooms, classrooms and collaboration spaces that don't require the sizeable coverage of a TeamConnect Ceiling 2, but still demand flexibility and freedom when presenting, reconfiguring room layout or involving multiple speakers simultaneously.
The IT-centric solution, based entirely around Category 5 cable and Power-over-Ethernet, is the new entry-level bundle in Xilica & Sennheiser's joint SKUs, which continue to include the Medium and Large Room Kits.
Comprising a Sennheiser TeamConnect Ceiling Medium, a Xilica Solaro QR1-UC PoE-powered digital signal processor, two Xilica Sonia C5 Category-cable based in-ceiling speakers, and a Xilica Sonia Amp PoE++ amplifier with integrated network switch, the Small Room Kit requires only a single network cable to the ceiling for the full in-room audio system.
Related: Xilica Enhances Auto-Tracking Camera Module for Sennheiser TeamConnect Ceiling 2
Using existing network infrastructure, the Xilica Sonia Amp supplies power to the TCCM and relays audio over the Dante protocol back to the system's Xilica QR1-UC DSP. Deploying the Xilica x Sennheiser Small Room Kit eliminates the need for traditional copper cable, messy termination, time-consuming system design and programming, and validation testing — which is completed by Xilica and Sennheiser using their in-house laboratories to ensure compatibility with Microsoft Teams, Zoom, and Webex by Cisco.
The full breadth of the Room Kit range allows enterprises, higher-educational institutions and governments to standardize on single product assortment for spaces of all sizes and scale up or down to meet the needs of specific rooms.
Streamlining training, deployment, and ongoing management, the Room Kits include voice-based camera tracking via Xilica technology with any common Pan-Tilt-Zoom (PTZ) camera, integrated mute and status sync for popular UC platforms, and pre-built modules to ensure easy setup while leveraging Xilica HearClear acoustic echo cancellation technology.
Additionally at ISE 2023, Xilica has announced that Sennheiser SpeechLine wireless digital microphone products are now natively supported in its systems — offering additional control options, assurance, and functionality for end-users and system integrators leveraging both product lines.
Xilica x Sennheiser Room Kits are available at select distribution partners worldwide.
If you enjoyed this article and want to receive more valuable industry content like this, click here to sign up for our digital newsletters!